Caribbean ERMA®, an online mapping tool covering Puerto Rico, the U.S. Virgin Islands, and surrounding islands, was developed in conjunction with U.S. Environmental Protection Agency Region 2. The site has been used to visualize environmental response data during a regional oil spill drill, to map small vessel groundings near coral reefs, and to assist in identifying resources affected by the 2009 explosion and fire at the Caribbean Petroleum Corp (CAPECO) oil storage facility in Puerto Rico.
NOAA's Office of Response and Restoration has trained the Regional Response Team members in the Caribbean to access information in ERMA. Additionally, after the devastating 2010 earthquake in Haiti, ERMA developers collaborated with the U.S. Environmental Protection Agency, Telascience Lab, and OpenStreetMap.org to bring together important humanitarian response information, as well as to create a visualization of this disaster's damage. More recently, Caribbean ERMA has incorporated threatened and endangered coral habitat data and is updated with the latest information as it becomes available for regional natural resources and area contingency plans.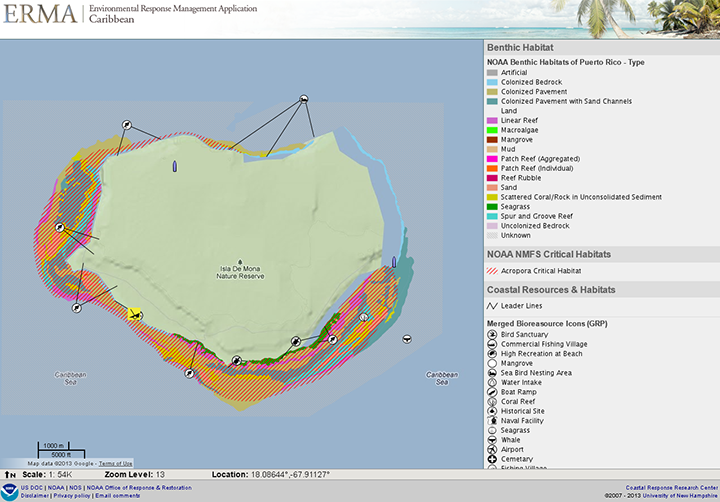 Caribbean ERMA shows environmental data used during the 2012 grounding of the M/V Jireh on coral reefs off Isla De Mona, west of Puerto Rico. Acropora coral has been listed as endangered, and the incident occurred near critical habitat for the species.
More Information about ERMA
The ERMA application is designed to:
Aid in spill preparedness and planning.
Assist in coordinating emergency response efforts and situational awareness for human and natural disasters.
Help define the extent of potential environmental impacts, supporting the Natural Resource Damage Assessment process.
Support ecological recovery and restoration efforts.
Provide access to this information from anywhere you have an internet connection.
Visualize data from a variety of sources, with the ability to include additional media such as photos and links to scientific reports.
Tell a story or reconstruct the history of an event using animated layers of information.
The application has been customized with specific data for 10 ERMA sites covering the United States and its territories. ERMA sites have secure-access accounts; however, publicly available environmental and baseline data are openly accessible for all regions.
ERMA Overview: Find out more information about the ERMA application.
Questions: Contact us with your questions, comments, or suggestions for ERMA.