In 2007, ERMA®, an online mapping tool integrating key environmental response information for decision makers, began as a pilot project in Portsmouth, N.H. It was eventually expanded to all New England states to act as the common operational picture for the Spill of National Significance (SONS) exercise, which took place in March of 2010. The U.S. Coast Guard Academy and state partners from Maine, New Hampshire, and Massachusetts provided relevant spatial data for this effort. This site was used to provide situational awareness of the pollution response effort in several command posts around New England.
During Hurricane Irene in 2011, New England ERMA was used to assist NOAA, the U.S. Environmental Protection Agency, and the State of New York by visualizing the hurricane tracks, satellite imagery, and flood damage information. In June of 2013, it also will be used at the U.S.-Canadian CANSULANT exercise, which will test preparedness for a cross-border oil spill.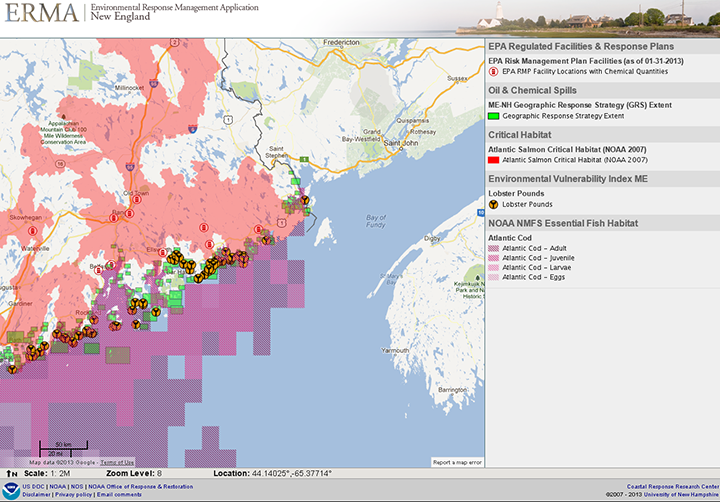 New England ERMA shows fishery and response data from state and federal partners that could potentially be used during a incident in the northern Maine region.
More Information about ERMA
The ERMA application is designed to:
Aid in spill preparedness and planning.
Assist in coordinating emergency response efforts and situational awareness for human and natural disasters.
Help define the extent of potential environmental impacts, supporting the Natural Resource Damage Assessment process.
Support ecological recovery and restoration efforts.
Provide access to this information from anywhere you have an internet connection.
Visualize data from a variety of sources, with the ability to include additional media such as photos and links to scientific reports.
Tell a story or reconstruct the history of an event using animated layers of information.
The application has been customized with specific data for 10 ERMA sites covering the United States and its territories. ERMA sites have secure-access accounts; however, publicly available environmental and baseline data are openly accessible for all regions.
ERMA Overview: Find out more information about the ERMA application.
Questions: Contact us with your questions, comments, or suggestions for ERMA.