Southwest ERMA®, an online mapping tool for the coastal California region, gathers a variety of data sets into a single interactive map, providing a quick visualization and improving communication and coordination for environmental response, planning, and restoration. Highlighted data sets include habitats and natural resources at risk, Area Contingency Plans, and real-time weather and operational data.
In the spring of 2013, Southwest ERMA was used in a large-scale oil spill training drill in El Segundo, Calif., just outside of Los Angeles. As the common operating picture for the drill, ERMA allowed all responders to visualize simulated impacts of a potential oil spill in Santa Monica Bay. Southwest ERMA enables NOAA to work more seamlessly with the U.S. Coast Guard and the State of California to share data, be better prepared in case of an actual disaster, and assist in damage assessments and restoration planning.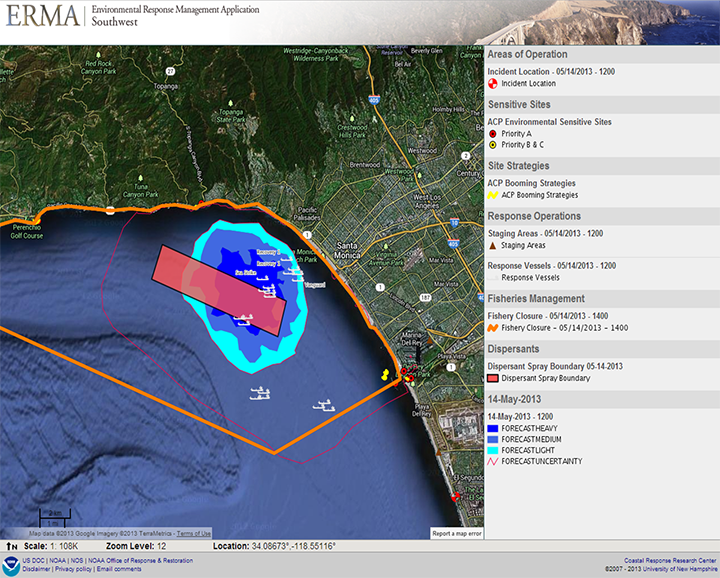 In the spring of 2013, Southwest ERMA was used at the National Preparedness for Response (NPREP) drill in El Segundo, Calif. Here, ERMA shows the potential spread of oil, fisheries closures, the boundary of dispersant application, and other response-related information for this oil spill training exercise. (NOAA)
More Information about ERMA
The ERMA application is designed to:
Aid in spill preparedness and planning.
Assist in coordinating emergency response efforts and situational awareness for human and natural disasters.
Help define the extent of potential environmental impacts, supporting the Natural Resource Damage Assessment process.
Support ecological recovery and restoration efforts.
Provide access to this information from anywhere you have an internet connection.
Visualize data from a variety of sources, with the ability to include additional media such as photos and links to scientific reports.
Tell a story or reconstruct the history of an event using animated layers of information.
The application has been customized with specific data for 10 ERMA sites covering the United States and its territories. ERMA sites have secure-access accounts; however, publicly available environmental and baseline data are openly accessible for all regions.
ERMA Overview: Find out more information about the ERMA application.

Questions: Contact us with your questions, comments, or suggestions for ERMA.