Back to top
11th Annual Trash Summit Addresses Marine Debris Issues in Washington, DC
DECEMBER 8, 2017 — The NOAA Marine Debris Program (MDP) participated in the Alice Ferguson Foundation 11th Annual Trash Summit on November 16, 2017, held at the Washington Nationals Major League Baseball Stadium in Washington, DC.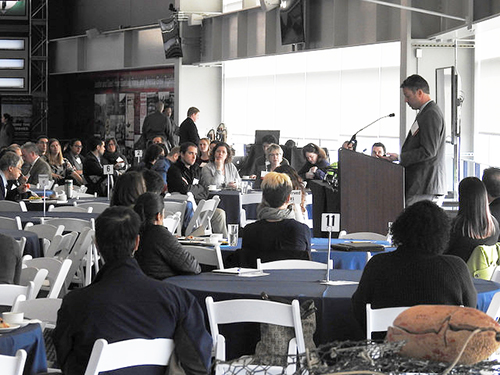 This year's Trash Summit brought together approximately 200 federal, state and local agencies, community members, business leaders, non-profit partners, elected officials, students, and educators seeking to creatively and effectively address the major problems associated with marine debris affecting the Anacostia and Potomac River watersheds. Jason Rolfe, the MDP Mid-Atlantic Regional Coordinator, presented opening remarks about the topic of marine debris and led a roundtable discussion of successful education and outreach solutions to marine debris challenges in other parts of the country.
The Trash Summit is an annual gathering of key stakeholders to educate, dialogue, plan, and take action on strategies that lead to a debris-free Potomac Watershed with a specific focus on the Anacostia River and surrounding communities. The ultimate goal of the summit is to develop achievable actions that ensure the institutions, infrastructure, and policies are in place to live up to the goal of being trash-free in the Washington, DC metro area.
For additional information, please contact: Jason.Rolfe@noaa.gov.