Oceania Regional Response Team Tour of Wildlife Rehabilitation Facilities in Hawaii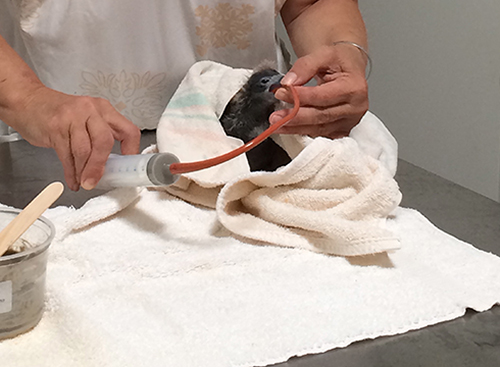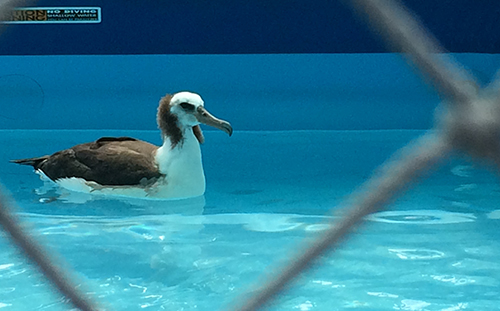 SEPTEMBER 25, 2015--During the week of 9/14/15, OR&R Emergency Response Division staff accompanied other Oceania Regional Response Team (ORRT) representatives on a tour of wildlife rehabilitation facilities on the Big Island of Hawaii.
The recently completed Hawaii Wildlife Center located in Kapa'au on the Big Island of Hawaii provides treatment and rehabilitation care for sick, injured and oiled native wildlife for release back into the wild. Of the 70+ native organism groups cared for at the facility, which include all species of native Pacific Islands birds and the Hawaiian hoary bat, most are federally threatened, endangered or of high conservation concern. The state-of-the-art center is the only facility of its kind in the Pacific Islands region and could accommodate a large-scale rescue and rehabilitation effort targeting impacted wildlife. The facility, which operates seven days a week, includes animal intake, isolation and holding areas, wash and dry rooms for cleaning oiled and contaminated wildlife, a laboratory, a hospital, a recovery yard with conditioning aviaries and pools, a laundry, and food preparation areas. Construction of the Interpretive Courtyard and Education Pavilion are underway.
The Ke Kai Ola monk seal rehabilitation center is located in Kailua-Kona. The facility, operated by the non-profit Marine Mammal Center, opened in 2014. The mission of this monk seal hospital is to provide veterinary care for sick, injured, and malnourished Hawaiian monk seals and to return them back to the wild. The Hawaiian monk seal is a critically endangered species, with only about 1,100 remaining. In the event of an oil spill affecting monk seals, this facility could accept and treat impacted animals.
These local wildlife rehabilitation centers are critical due to the distance to the Hawaiian and other Pacific Islands territories from wildlife response resources located on the U.S. mainland. Both facilities operate largely with volunteer help.
For more information, contact Ruth.Yender@noaa.gov.
Go back to OR&R Weekly Report.