Parts of the U.S. Government are closed. However, because the information this site provides is necessary to protect life and property, it will be updated and maintained during the Federal Government shutdown. For critical weather information, please visit
www.weather.gov
. To learn more, see
www.commerce.gov
.
OR&R Emergency Response Founder John Robinson Passes On
February 16, 2011 -- We are saddened to report that John Robinson passed away on Sunday, February 13, 2011. John created the NOAA HAZMAT team in the mid-1970's in Boulder, Colorado. HAZMAT subsequently evolved into the Emergency Response Division of NOAA's Office of Response and Restoration (OR&R).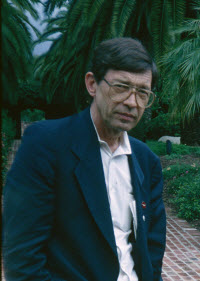 John Robinson, during Mid-East Peace Initiative training, 1993. (Photo: Alan Mearns)
John was a leader in every sense of the word. At NASA (National Aeronautics and Space Adminstration), he was a member of Mission Control for the Apollo 11 and subsequent moon missions. He joined NOAA in 1971, establishing the $100 million Outer Continental Shelf Environmental Assessment Program (OCSEAP) and then the NOAA Hazardous Materials Response Program (NOAA HAZMAT).
John lead the young HAZMAT team on the response to the 1979-80 Ixtoc I blowout in the Gulf of Mexico, at the time, the largest accidental marine oil spill in history. He mobilized NOAA ships, staff, and resources to document the fate and effects of Ixtoc I. Many spills later, he rose immediately to the challenge of the March 24, 1989 Exxon Valdez oil spill in Prince William Sound, Alaska.
Close to retirement, John pulled NOAA resources together again to meet yet another challenge, the 1991 Desert Storm oil spills in Kuwait and the Arabian Gulf, the largest marine oil spill in history, accidental or intentional. He mobilized the NOAA Research Vessel Mount Mitchell for a multi-month cruise, bringing onboard U.S., European, and Arab scientists, publishing the major scientific report, and receiving the Department of Commerce Gold Medal. He also made a major contribution to international affairs by organizing and hosting a Mid-East Peace Initiative, a two-week training event, bringing to Monterey and Santa Barbara scientists from Israel, Palestine, Jordan, and other Mid-East nations.
In addition to NOAA marine emergency response, John built the vision for the Computer Aided Management of Emergency Operations (CAMEO) in 1984, following the Bhopal tragedy in India. The CAMEO program targets first responders with information and tools to make quick decisions at the local level. Working with EPA, CAMEO has evolved to a tool that is used by tens of thousands of responders throughout the world.
John retired in 1994, moving permanently to Santa Barbara, California with his wife, NOAA Captain Francesca Cava, where he joined Heal the Ocean and developed innovative stormwater pollution control systems.
In May, 1998 he joined the HAZMAT team during our retreat in Santa Barbara, our last HAZMAT gathering with him. He was unable to visit us during the ERD retreat last week in Santa Barbara, and we learned of his passing while we were all returning home.
We miss you, John, and thank you for your national legacy and strong vision that has evolved into a great organization.
More Remembrances of John Robinson