Back to top
Texas City "Y" Incident: Aftermath of the Oil Spill in Galveston Bay, Texas
March 31, 2014 -- The March 22 vessel collision in Galveston Bay (see Kirby Barge Oil Spill, Houston/Texas City Ship Channel, Port Bolivar, Texas) resulted in an oil spill of approximately 168,000 gallons. Although scattered and trace amounts of oil were found as far west as Mustang and Padre Islands, almost all of the oil is still thought to be stranded on shorelines between Galveston and Matagorda. Some widely scattered floating tarballs and sheens may be possible, but no floating oil was observed on overflights today. As of Monday, March 31, NOAA National Marine Fisheries Service teams report 21 dolphins and 4 turtles stranded. Most of these are in the Galveston area but reports from Matagorda Island are increasing. All of the dolphins were dead, two turtles were captured alive and are being rehabilitated. Most of the animals were not visibly oiled but necropsies are still underway. Approximately 150 dead birds have been reported in the Galveston area and 30 in the Matagorda area. Cleanup activities in the Galveston area are proceeding and the U.S. Coast Guard is beginning the process to downsize staffing and phase out response efforts.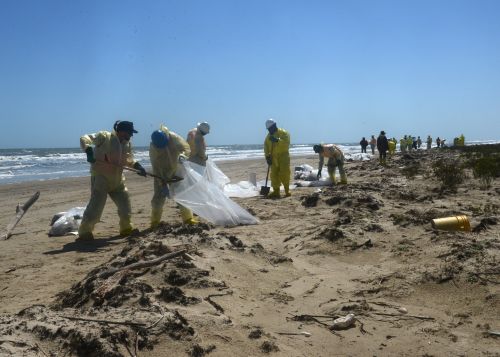 Surveying Oiled Shorelines
After an oil spill like this one happens along the coast, spill responders need to figure out and document where oil has come ashore, what habitats have been affected, and how to clean up the shoreline. NOAA helped develop a systematic method for surveying an affected shoreline after an oil spill. This method, known as Shoreline Cleanup and Assessment Technique (SCAT), is designed to support decision-making for shoreline cleanup. We have SCAT experts helping coordinate these shoreline surveying efforts for the oiled beaches in Texas. In general, SCAT surveys begin early in the response to assess initial shoreline conditions (including even before oil comes ashore, as a reference) and ideally continue to work in advance of cleanup. Surveys continue during the response to verify shoreline oiling, cleanup effectiveness, and eventually, to conduct final evaluations of shorelines to ensure they meet standards for ending cleanup. SCAT teams include people trained in the techniques, procedures, and terminology of shoreline assessment. Members of a SCAT team may come from federal agencies (usually from the NOAA Scientific Support Team or U.S. Coast Guard), state agencies, a representative of the organization responsible for the spill, and possibly the landowner or other local stakeholders. While out walking the shoreline, SCAT team members prepare field maps and forms detailing the area surveyed and make specific cleanup recommendations. Later, they go back to the areas surveyed to verify cleanup effectiveness, modifying guidelines as needed if conditions change. The data they collect informs a shoreline cleanup plan that maximizes the recovery of oiled habitats and resources, while minimizing the risk of injury from cleanup efforts. This means, for example, determining whether active cleanup is necessary or whether certain limitations on cleanup are needed to protect ecological, economic, or cultural concerns.