Back to top
CAMEO Team Participates in Two Hazardous Material Conferences
OCT. 27, 2017 — In late October, members of the CAMEO Software team (both NOAA and EPA) attended two conferences to share updates on CAMEO products and learn from local emergency planners and responders.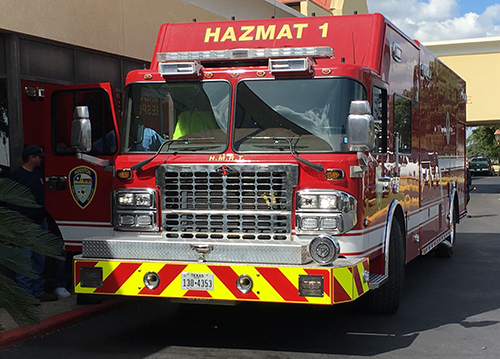 The first of two conferences was the mid-year meeting of the National Association of SARA Title III Program Officials (NASTTPO), an organization of state and tribal emergency response planners. The conference was held from October 16-18 and covered topics such as regulatory updates, grant requirements and reporting, training in austere budget environments, and engaging local partners. 
CAMEO team members from NOAA and the EPA both participated in the conference. NOAA team members, Brianne Connolly and Kristen Faiferlick, presented an update on the CAMEO Suite progress and planned releases. CAMEO partners at the EPA presented updates on regulations related to hazardous material reporting. 
The 2017 Hotzone Conference followed, running from October 19-22. Hotzone is one of the major annual conferences for first responders, where they can receive hands-on training, hear case studies and lessons learned from their peers, and learn about the latest technologies related to hazardous material response. The event had over 600 attendees from around the country. Attendees discussed topics including chemical identification, hazmat containers and transportation, protective clothing, plume modeling, GIS, case studies, and more. This year, several sessions (including the keynote speech) discussed some of the emerging challenges faced by responders, such as fentanyl, bath salts, and grow operations. 
Particularly noteworthy for the CAMEO team was the unveiling of the Jack Rabbit II tests, a series of experiments involving large-quantity chlorine spills. The Jack Rabbit team presented their findings alongside their analysis and conclusions, which had important implications for first response. CAMEO team members also attended several CAMEO training lessons in order to share updates, demo new upcoming versions, and assist users as they learned about the products. 
For more information, contact Kristen.Faiferlick@noaa.gov.