Back to top
Changing Life on a Rocky Shore in Prince William Sound: A 30-Year Time Series
JULY 15, 2019 — Early morning on Thursday July 4, during a minus tide, Skipper David Janka (Auklet Charters, Cordova, Alaska) stepped ashore at a cove on Knight Island in Prince William Sound and took the 30th annual photograph of a scene known as "Mearns Rock".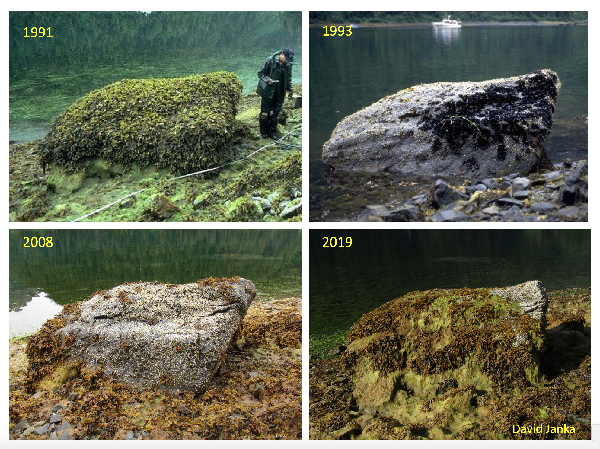 NOAA's retired Emergency Response Division Scientist Emeritus, Dr. Alan Mearns, received the photo that evening and compared it to all previous 29 annual photos of the same scene. The entire 30-year collection of annual photos reveals dramatic year-to-year changes in the abundance of conspicuous rocky shore marine life not only at this site but also at six other locations in western Prince William Sound. For example, during the past 30 years the abundance of Rockweed at the Mearns Rock site has experienced at least five multi-year "boom-and-bust" episodes. One year, the rock and beach face was nearly barren of any marine life. During 1993 to 1995 mussels were the most prominent organisms: they disappeared and have not since returned to such abundance.
These are "human-sized" images that have inspired citizens, students, teachers, and staff, as well as other scientists, to appreciate how variable marine life is between the tides on rocky shores. Framed images greet visitors in the main entrance to the Seattle OR&R office. The time series photos have appeared in books, journal articles and responder training events, underscoring the importance of basic long-term monitoring in understanding environmental trends and variability.
The annual photo series began with NOAA OR&R staff during a major Exxon Valdez long-term recovery monitoring program in the 1990's and early 2000s. During this last decade photos have been continued by local volunteers including citizens and regional scientists, also underscoring the role volunteers can play in documenting environmental change.
For more information contact Alan.Mearns@noaa.gov.
See also: Mearns Rock: A Long-Term Study of Ecological Recovery