Back to top
Coast Guard Announces Oil to be Removed from Sunken WWII Tanker near Long Island
MAY 13, 2019 — On May 9, the U.S. Coast Guard hosted a joint press conference to discuss the ongoing operations at the wreck site of a sunken WWII Tanker near Long Island, New York.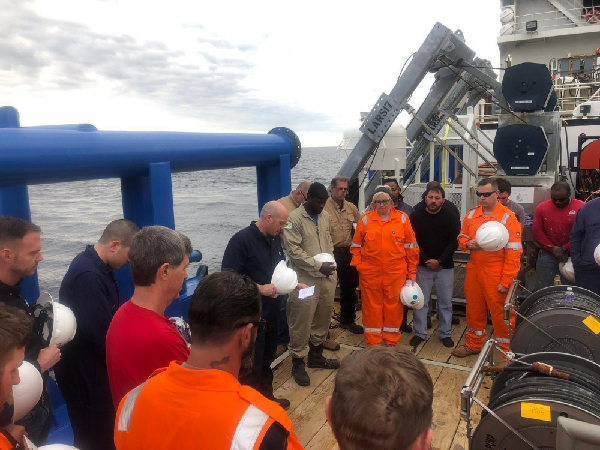 The Coimbra was a British supply ship during World War II that was torpedoed and sunk by a German U-boat in the Battle of the Atlantic on Jan. 15, 1942. Over the years, the tanker has shown signs of leaking in increasing amounts.  
The U.S. Coast Guard announced in a press release last month that an underwater assessment would be conducted to determine the possibility of oil removal operations on the Coimbra. The Coast Guard contracted Resolve Marine Group to conduct a full assessment of oil remaining on the Coimbra wreck. A substantial amount of oil was discovered during an assessment on Tuesday, May 7, and the Coast Guard said removal operations would take place prior to the end of May.  
NOAA support and assessment to this removal is ongoing. In addition to the Office of Response and Restoration's involvement in this incident, other NOAA offices have been essential in this project, including the National Environmental Satellite, Data, and Information Service (NESDIS), which has leveraged the use of their recent agreement with Canada for greater satellite coverage during the operation. Underwater archaeologists with the Office of National Marine Sanctuaries also worked on project RULET to preserve underwater historical artifacts. OR&R was also supported by the National Weather Service Ocean Prediction Center, and the National Marine Fisheries Service provided environmental consultations. Other offices participated in underlying work on the RULET wreck risk assessments as well. See also Potentially Polluting Wrecks in U.S. Waters.
For more information on the Coimbra assessment, view the wreck report here.
more images