Back to top
Cranes, Drones and ROVs – Collaborating to Characterize Oil
JUNE 15, 2018 — This week, OR&R scientists are working in collaboration with Bureau of Safety and Environmental Enforcement, WaterMapping LLC, University of South Florida, the U.S. Coast Guard (USCG) and EPA to advance our capabilities for detecting and characterizing floating oil using a combination of remote sensing and in situ measurements at the Ohmsett Oil Spill Research wave tank facility in Leonardo, New Jersey.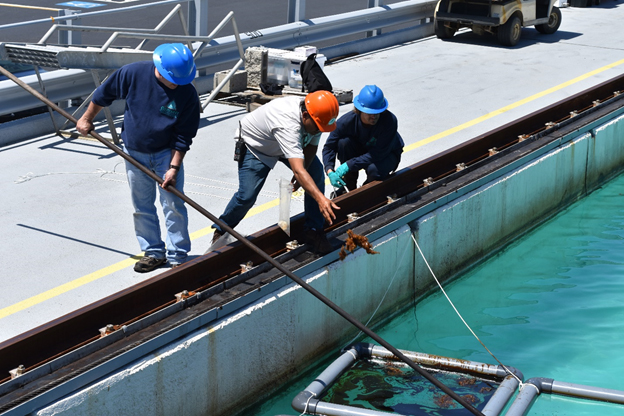 The collaborative team combined expertise to develop and conduct tests to advance our ability to distinguish fresh, weathered and emulsified floating oils of various thicknesses using a combination of optical and near infrared (including thermal) sensors. The team is also developing the ability to distinguish floating sargassum from floating oil, thus reducing incidents of "false positives" during oil spill responses and assessments. 
For further information contact Lisa.DiPinto@noaa.gov or George.Graettinger@noaa.gov.