Back to top
Debris Removal Updates from the Carolinas
JUNE 24, 2019 — Dealing with medium and large debris in coastal waters can be chronic, complicated, and costly for many states.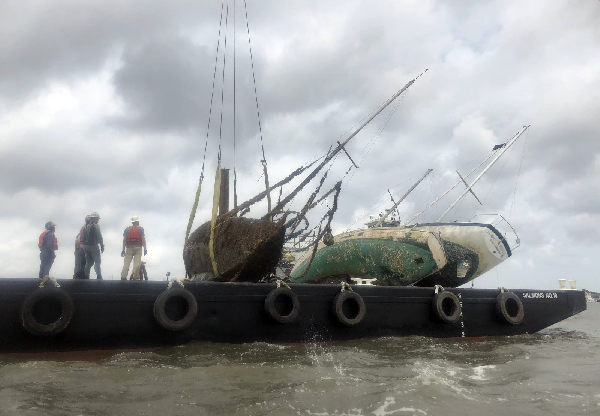 Illegal moorings, dock debris, pilings, pallets, and abandoned and derelict vessels (ADVs) all pose navigation hazards and damage sensitive habitats.  Two projects - in North Carolina and South Carolina - are working to tackle these issues head on, and NOAA Marine Debris Program Southeast Regional Coordinator, Sarah Latshaw, was recently able to visit both projects. 
On June 4, Sarah visited partners with the Town of Beaufort, North Carolina Coastal Reserves, TowBoat US, and the BoatUS Foundation.  These groups are working together, with support from a FY18 NOAA Community-based Marine Debris Removal Grant, to remove over 46,000 pounds of debris, including abandoned moorings, derelict vessels, fishing gear, and other large debris from water adjacent to the Rachel Carson Reserve in North Carolina (read more about the project here).  During Sarah's visit, the team removed a small ADV from a beach and filmed a short documentary to showcase the project, partners, and debris removal efforts taking place in the Beaufort Harbor.
On June 5, Sarah joined partners with the South Carolina Department of Environmental Control Office of Ocean and Coastal Resource Management (SCDHEC-OCRM) and Charleston City Police's Harbor Patrol to observe vessel removal operations in South Carolina.  The five vessels removed from the Ashley River were remnants of the impacts from Hurricane Irma, and have remained sunken or stuck in the marsh since September 2017. 
This work is being accomplished through funding support from NOAA Marine Debris Program disaster relief appropriations to address Hurricane Irma related debris.  In 2018, SCDHEC-OCRM was awarded $174,220.  The agency sub awarded the funding to partners in the Cities of Charleston and Folly Beach, who plan to remove approximately 14 vessels and dock debris in the coming months.
This important work from our North Carolina and South Carolina partners will improve navigation safety and important habitat critical for coastal protection. 
For further information, please contact Sarah.Latshaw@noaa.gov.
more images