Back to top
DELMARVA Tabletop Oil Spill Exercise
SEPTEMBER 14, 2018 — Exercise: On September 6, during an offshore lightering operation involving two large oil tankers, 1,000,000 gallons of Palanca crude oil is spilled into the Atlantic Ocean 30 miles east of Cape Henlopen, Delaware.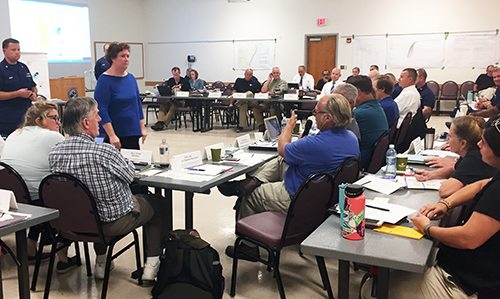 Using NOAA's General NOAA Operational Modeling Environment (GNOME) modeling tool to predict the possible route, or trajectory, the oil might follow, with 15 knot winds coming out of the Northeast, the spilled oil is heading towards the shorelines of Delaware, Maryland and Virginia. This was the scenario that was used for a tabletop exercise involving U.S. Coast Guard Sectors Delaware Bay and Maryland - North Capital Region, the states of Delaware, Maryland and Virginia and multiple supporting agencies such as NOAA and U.S. Fish and Wildlife Service.  
As part of the exercise, NOAA prepared a Resources at Risk analysis that identified potential impacts to offshore, near shore and shoreline biological resources and habitats, including a large number of endangered and threatened species, and human-use resources, such as refuges, parks and recreational beaches.
Exercise participants evaluated multiple response tools such as in-situ burning and mechanical recovery, but primarily focused on the offshore application of dispersants. Dispersants enhance oil biodegradation and hydrocarbon solubility at the water's surface and although, dispersants reduce risks to workers, wildlife and sensitive habitats, there are increased risks to water column biota. Discussion among the various stakeholders included recommending a course of action during the first 48 hours; timing and logistical implementation of chemical countermeasures; procedures and requirements for operational application; and monitoring for effectiveness.
What was unique about this exercise was addressing the trans-boundary implications between two different U.S. Coast Guard Sectors and multiple states, identifying and establishing an effective and timely response, and evaluating the adequacy of current plans and procedures for response and protection strategies.
More than 80 people representing a multitude of response agencies and organizations attended the one-day exercise that was held at the Delaware State Fire School in Dover, Delaware.
For additional information, contact Frank.Csulak@noaa.gov.