Back to top
Disaster Preparedness Exercises: An Overview of What's to Come
Genwest Contractor, Katie Krushinski is the exercise coordinator for OR&R's Disaster Preparedness Program. She is responsible for supporting exercise design, development, delivery, and evaluation for exercises. Exercises — or simulated scenarios that mimic potential events — are extremely important, allowing us and our partners to test our ability to ensure we can carry out our missions effectively and efficiently.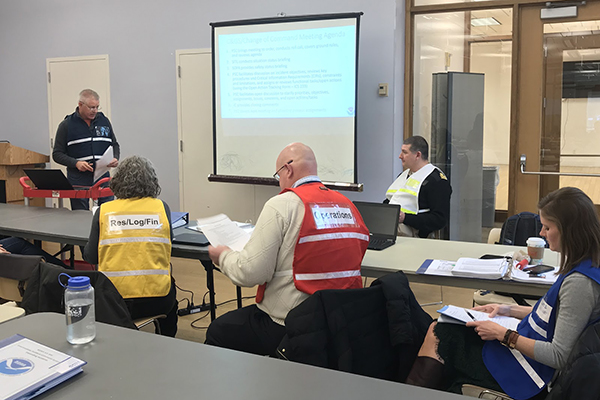 Southeast and Caribbean NOAA Disaster Resilience Workshop and Exercise
Following successful workshops (and active hurricane seasons) in 2017 and 2018, the NOAA Southeast and Caribbean Regional Team (SECART) and the Disaster Preparedness Program will convene a workshop and exercise May 14-16, 2019 in Charleston, South Carolina to identify opportunities to improve NOAA's disaster resilience in the region. This year's event will focus on the "recovery" of NOAA offices, resources, partners, and constituents following a disaster.
During this workshop, we will:
Explore NOAA's roles and responsibilities throughout the recovery phase of a disaster cycle;
Determine the best ways we can work together to ensure that NOAA offices and partners have the capacity to recover in the wake of a disaster;
Improving NOAA Emergency Preparedness in the Western Region
With the growing threat of disasters in all areas of the U.S., it's evident that communities respond and recover more effectively when preparedness measures have been taken ahead of time. In an effort to improve NOAA's unified regional response and recovery posture, the DPP will lead NOAA's Western Region through a tabletop exercise the week of June 3, 2019 in Seattle.
During this exercise, they will:
Demonstrate and explain the capability of each represented NOAA office to increase agency-wide collaboration during a hazardous situation;
Discuss the capability to deliver coordinated, prompt, reliable, and actionable information.
Evaluate NOAA's capacity to maintain a coordinated response in a hazardous situation.
Internal OR&R Response Posture Exercise
As a result of recent active hurricane seasons, the DPP, in partnership with the other OR&R divisions, outlined the need for additional internal preparedness to better enhance our own response posture. To meet this goal, the DPP is developing a tabletop exercise to be held in the summer of 2019. We are still in the early planning phases of this exercise, so additional details will be available in the coming months.
During this exercise, we plan to explore topics such as:
Improving our services;
Incorporating new technologies; and
OR&R staffing capabilities, skills, and expertise.