Parts of the U.S. Government are closed. However, because the information this site provides is necessary to protect life and property, it will be updated and maintained during the Federal Government shutdown. For critical weather information, please visit
www.weather.gov
. To learn more, see
www.commerce.gov
.
Disaster Preparedness Program Participates in International Association of Emergency Managers Annual Conference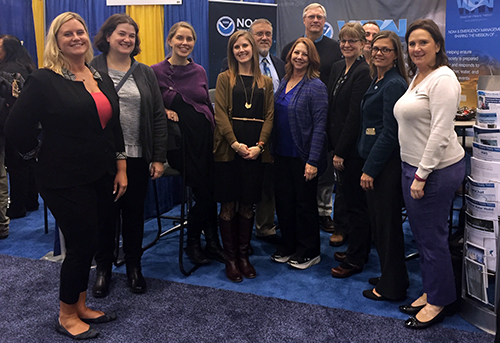 OCTOBER 26, 2018 — Members of the Disaster Preparedness Program (DPP) participated in the International Association of Emergency Managers (IAEM) Annual Conference this week in Grand Rapids, Michigan.
While NOAA representation at this conference is traditionally covered by the National Weather Service (NWS), this year NOAA staff from NOS, National Marine Fisheries Service, Public Affairs, and the Homeland Security Program Office also participated. The conference allowed staff to gain valuable insight into the broad field of emergency management, make connections across NOAA and with local emergency managers, and hear lessons learned from officials in hurricane-stricken areas including Texas and U.S. Virgin Islands. Katie Krushinski, Mike Bilder (on detail from NWS) and Kate Wheelock attended for the DPP.
For more information, contact: Kate.Wheelock@noaa.gov