Back to top
Earth Day on the Raritan Canal
APRIL 27, 2018 — In celebration of World Fish Migration Day and Earth Day, NOAA, in coordination with the U.S. Fish and Wildlife Service (USFWS) and Rutgers, organized an outreach event that drew scores of people to the on-going efforts to improve the environmental health of the Raritan River for migratory fish.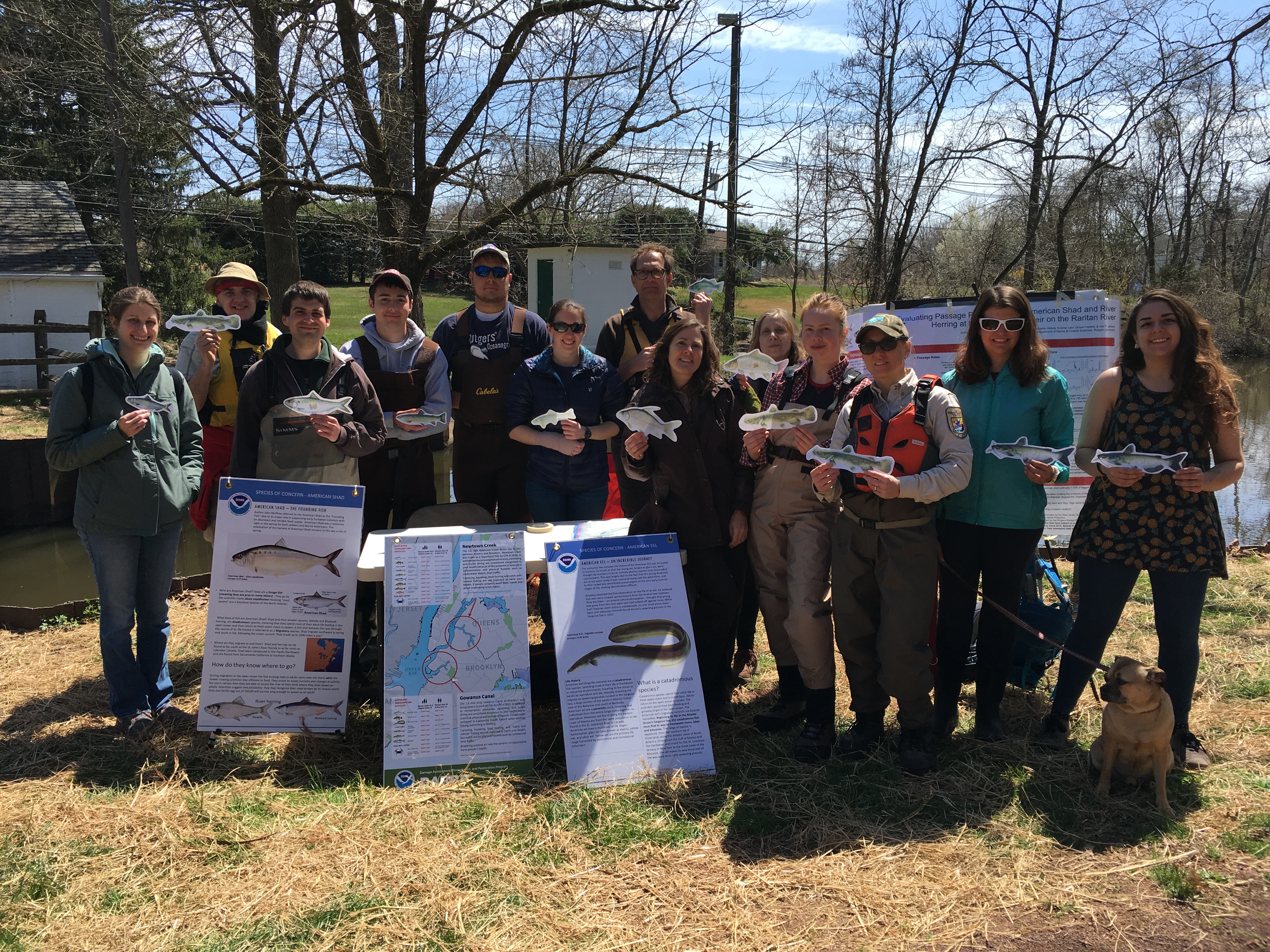 NOAA's Damage Assessment, Remediation and Restoration Program, the USFWS, and others engaged in environmental work in the watershed cleaned the banks of the Delaware-Raritan Canal in South Bound Brook from kayaks, teaming up with the Central Jersey Stream Team who worked the shores from the upland. Sheet metal, paint cans, tires, a metal sink, and bags of plastic, cans and bottles were removed.  
A small group then padded more than two miles on the Delaware Raritan Canal upstream to the Island Farm Weir on the Raritan River.  This is the confluence of the two largest watersheds in New Jersey, the Millstone and the Raritan. Two million New Jersey customers receive their potable water from five water intakes behind the weir. That makes the Island Farm Weir one of the most critical water extraction points in New Jersey and the first dam on the Raritan River. Three downstream dams were removed in 2011 (Calco), 2012 (Robert Street) and 2013 (Nevius Street).
We joined the Rutgers University Jensen lab to fish and Passive Integrated Responder (PIT) tag shad. The tags allow researchers to track the movement of the shad and assess the efficiency of vertical slot fish ladder at the weir. Alternative methods to improve migratory fish passage are currently being evaluated. Designing improved fish passage at the Island Farm Weir is part of a natural resource damage settlement for in-river liability associated with releases from the American Cyanamid Superfund Site. Sadly no shad were caught this day but a separate shad and river herring project has tagged a limited number or shad this year. Rutgers students were also stationed along the canal with informative posters on migratory fish and the shad monitoring program.  We finished the afternoon festivities by paddling the Raritan River past the American Cyanamid Superfund Site and the former Calco dam.
For further information, contact Lisa.Rosman@noaa.gov.