Back to top
The Great Fish Count
JUNE 10, 2019 — The week of June 3, OR&R's Assessment and Restoration Division partnered with the Hudson River Estuary Program/Hudson River National Estuarine Research Reserve at the Great Fish Count at Lemon Creek Park in Staten Island.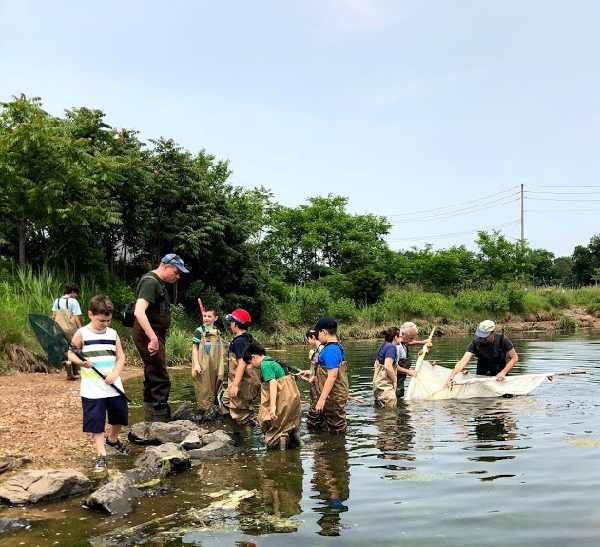 . This was the Assessment and Restoration Division's first time at the event, although the Restoration Center has participated for the last five years.
The free annual event, held at 18 sites scattered across New York City, Westchester, and New Jersey, provided an opportunity to connect residents of a highly urban environment with nature.  Adults and kids were able to suit up in chest waders and collect fish and invertebrates using seine and dip nets.
For many of the participants, this was their first opportunity to explore and engage with the inhabitants of the estuarine environment right in their own backyard. Sampling the tidal pond and nearby beach waterfront showcased the diversity, similarities, and differences in two habitats using two types of sampling equipment.
Sand and shore shrimp, blue and hermit crabs, herring, bay anchovy, mummichogs, killifish, silversides and sticklebacks were among the species they picked out of nets. Some attendees even got to hold a live large female horseshoe crab!
This annual event is hosted by the World Science Festival, and is organized in partnership with the New York State Department of Environmental Conservation and the Lamont–Doherty Earth Observatory. It was a great day for fish and friends alike!
For further information, contact Lisa.Rosman@noaa.gov.
more images