Back to top
Hudson Regional Working Group - Monitoring Framework for Shoreline Treatments
JULY 13, 2018 — OR&R's Assessment and Restoration Division was one of several Hudson River stakeholders invited to serve on the Hudson Regional Working Group at a July 9 workshop to provide feedback on a draft monitoring framework for shoreline treatments in New York State.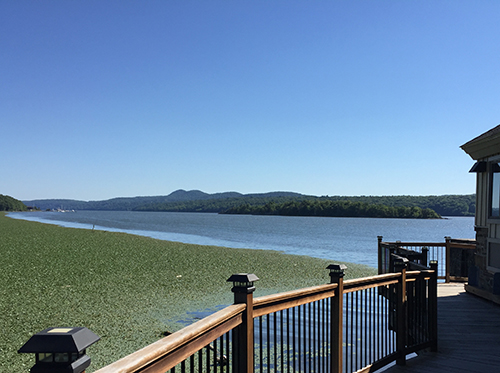 New York State previously issued a guidance document on living shorelines techniques for use in marine and coastal waters.  Four such workshops have been scheduled between July and September 2018 in 4 regions of the state: the Hudson Valley, New York City, Long Island and the Great Lakes. The effort, Measuring Success: Monitoring Natural and Nature-Based Shoreline Features is sponsored by the New York Department of State (NYDOS) and New York State Energy Research and Development Authority (NYSERDA). 
The goal of the initiative is to develop consistent sampling protocols, metrics/ indicators and a database to allow for robust comparative analysis of results across the continuum of shoreline features ranging from natural and nature-based to ecologically enhanced hard structures and traditional hard structures. Three resilient services were selected: hazard mitigation and structural integrity, ecosystem function, and socio-economic outcomes. The framework will be used to inform resilient shoreline management decisions by assessing the performance of the various shoreline features to respond to coastal hazards while minimizing adverse effects to the public and shoreline habitats and processes.  
The project core team is led by the Science and Resilience Institute at Jamaica Bay along with the New York State Department of Environmental Conservation, New York State Sea Grant, New York–New Jersey Harbor Estuary Program, the New York State Water Resources Institute/Cornell University. New York City Parks, the US Forest Service, Brooklyn College, the Consensus Building Institute, SCAPE Landscape Architecture, and ARCADIS. A ten member Project Advisory Committee includes a representative from NOAA's Office of Coastal Management. Technical Working Groups (TWGs) for each of the three resilient services provide guidance and assistance to the core team while the Regional Working Groups meet once and their comments are synthesized for the TWGs. The plan is to test out the framework in 2019 at pilot sites and finalize the monitoring framework by the end of 2019.
For further information, contact Lisa.Rosman@noaa.gov.