Back to top
Inland Oil Spill Training in Bishop, California
OCTOBER 26, 2018 — Over the past 13 years, OR&R's Emergency Response Division has teamed up with California's Office of Spill Prevention and Response (OSPR) to provide oil spill science training known as Environmental Response to Oil Spills (EROS).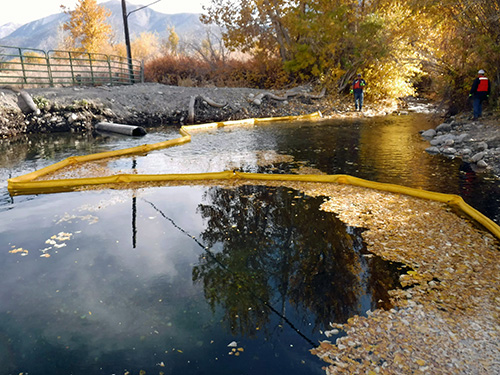 And because spill science topics are relevant to both marine and inland spill, OR&R periodically supports inland EROS classes including one on October 23-25 in Bishop, California.
The training included students from California Department of Fish and Wildlife game wardens and biologists as well as a staff from local cleanup companies and a public utility power company. The class covered a wide variety of both marine and inland subjects such as oil chemistry, fingerprinting, fate and transport, ecotoxicology, resources at risk evaluations, shoreline assessments (Shoreline Cleanup Assessment Technique or SCAT), environmental trade-offs, cleanup methods and endpoints, Natural Resource Damage Assessment (NRDA), oiled wildlife capture and care, and waste management.  In addition, field exercises included boom deployment demonstrations, SCAT activities and riparian biology and geomorphology. 
For additional information, contact Jordan.Stout@noaa.gov.