Back to top
Inspiring the Next Generation of Scientists at "Beneath the Sea"
APRIL 5, 2019 — Every scientist, policy analyst, educator and administrator who works at NOAA started in the same place, as a kid in a classroom.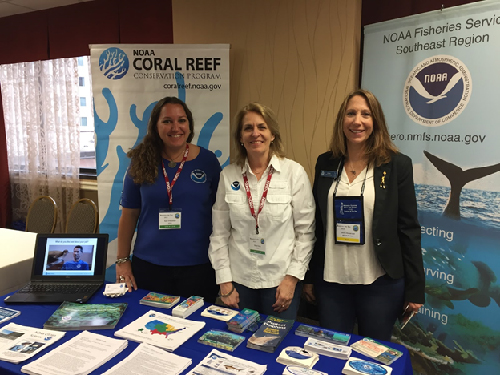 Last week three of NOAA's best spent their day reaching out to future change makers at the 12th Annual Beneath the Sea Marine Careers Program in Secaucus, New Jersey.
The goal of the Beneath the Sea is to educate youth, parents, and teachers on the benefits of protecting the marine environment. There are many ways to learn about the ocean, from getting outside and exploring the coastline to diving into a book at your local library. However, one of the most impactful ways is by speaking with ocean experts face to face.
By reaching out to kids, parents, and teachers at the local level, NOAA is able to convey how our large federal agency impacts local communities. It puts a face to the science, and provides role models for kids in school. Through volunteering at programs like Beneath the Sea, NOAA is better able to bring our message home.
For further information, contact Diane.Evers@noaa.gov.