Back to top
Instructors and Students Discuss Oceanography at Cape Henlopen as part of "Science of Oil Spills" (SOS) Class
APRIL 13, 2018 — During the week of April 9, OR&R's Emergency Response Division team of oil spill scientists conducted a "Science of Oil Spills" (SOS) class at the Delaware Department of Natural Resources and Environmental Control's (DNREC) Shoreline and Waterway Services Facility, Lewes, Delaware.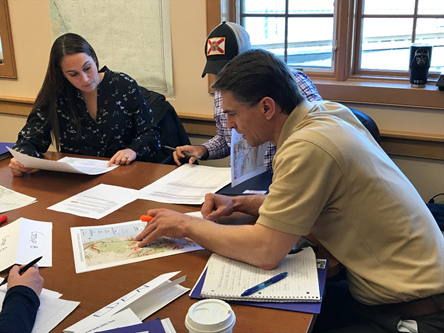 The Lewes class covered a wide range of oil spill response topics and included a field trip to Cape Henlopen State Park, an oiled wildlife cleaning simulation activity with the Tri-State Bird Rescue and Research Center and a hands-on activity with the response equipment for the Delaware Bay and River Cooperative.
Classroom exercises demonstrated how viscosity, temperature, sediment permeability and porosity influence oil behavior on shorelines, and how oil disorders feather structure, impairing waterproofing and insulating properties. In addition to these exercises, students learned about the fate and behavior of oil spilled in the environment, oil chemistry and toxicity, how to use Environmental Sensitivity Index (ESI) maps, and gained insight into the complexity of environmental trade-offs associated with response options and cleanup endpoints. Finally, lecturers provided information on the history of oil spills, the Endangered Species Act and Historic Preservation Act consultation process and special considerations for community health and well-being following an oil-spill.
OR&R would like to thank the DNREC for the use of their facility, the Tri-State Bird Center for the oiled wildlife cleaning simulation activity and the DBRC for staging activity stations of response equipment.
OR&R's training team was led by Training Coordinator, JD Hoyle and Scientific Support Coordinator, Frank Csulak. The 42 class participants included representatives from the U.S. Coast Guard, other federal, tribal, and state agencies, local government, and industry. SOS workshops are always in high demand in the oil spill response community, and this fiscal year was no exception. The last SOS class for fiscal year 2018 will be held in Seattle, WA during the week of June 11, 2018.
For more information about upcoming SOS classes, please contact Jamechia.Hoyle@noaa.gov.