Back to top
Intertidal Surveys of the Farallon Islands
MARCH 2, 2018 — Twenty-seven miles off the coast of San Francisco lies a remote cluster of seven small rocky outcrops known as the Farallon Islands within NOAA's Greater Farallones National Marine Sanctuary.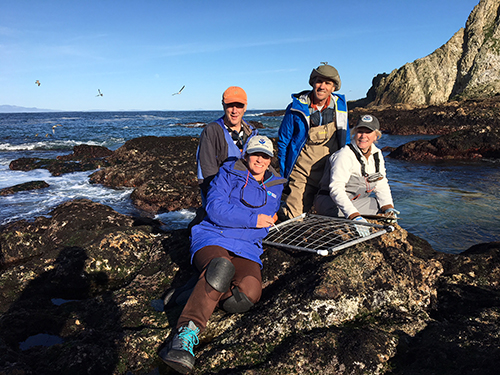 Greg Baker and Rob Ricker of OR&R and Natalie Cosentino-Manning of the NMFS Restoration Center traveled this week to the largest of these, South Farallon Island, to assist Jan Roletto of the NOAA Sanctuary conduct intertidal surveys.
The survey team established new long-term monitoring stations to document the ecological abundance and health of marine algae, sea grasses, and intertidal animals such as mussels, sea anemones, and sea stars. The surveys are coordinated with ongoing monitoring that has been underway on the main coast of California for decades, but new protocols are being implemented and additional stations established to identify and catalog the shoreline resources for several purposes, including establishing a current baseline of conditions at the Farallones in case a future oil spill impacts the islands. When offshore oil spills spread to nearby shores, responders must make many decisions on appropriate actions to take to prevent or reduce impacts and eventually to determine natural resource damages and what can be done to restore the environment. Shorelines along the California mainland are regularly accessible but getting to and from the remote Farallones presents challenges given that there are no natural harbors. The US Coast Guard assists NOAA and USFWS personnel with helicopter access to the island, but various boats are also used to provide access and support.  Periodic assessment of the conditions in the Farallones supports the goals of the NOAA Sanctuary to protect important natural and cultural places, measure potential variations over time that might be manifestations of climate change or seasonal fluctuations attributable to El Nino events. The data gathered from this week's efforts likewise support OR&R's mission of response and restoration.
For further information, contact Greg.Baker@noaa.gov, or Rob.Ricker@noaa.gov.