Back to top
LT Michael Doig with the Crew of NOAA Ship Ronald H. Brown on Final Leg of Around the World Voyage
OCTOBER 26, 2018 — On October 16, Great Lakes Scientific Support Coordinator, LT Michael Doig, joined the crew of the NOAA Ship Ronald H. Brown on the final leg of their around the world voyage.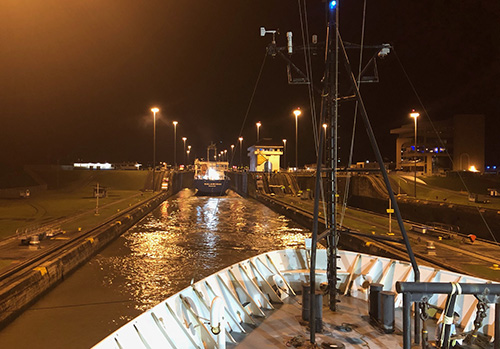 The transit took the ship from Rodman, Panama to Charleston, South Carolina, through the Panama Canal. 
The Panama Canal is a 51 mile long artificial waterway that connects the Pacific and Atlantic Oceans. Every ship that navigates the Canal is required to take aboard a pilot for the transit. Pilots are specially trained ship captains who assist vessels in navigating the canal and lock system. The Canal requires 3 locks up and 3 locks down to take vessels from coast to coast. The locks take vessels from sea level to 85 feet above sea level into Gatun Lake, and back down to sea level on the other side. When ships enter the locks they are connected to "mules" or small locomotives that keep vessels positioned in the center of the locks and help pull them through safely.
The Panama Canal is designed to handle vessels that can exceed 1000 feet in length, such as cargo ships. At 274 feet in length, the NOAA Ship Ronald H. Brown is small by comparison, so it was paired with another vessel for the transit. The Ronald H. Brown made the transit at night, however the Canal is extremely well lit and marked for navigating at night.  
The Panama Canal Authority maintains cameras on the Miraflores Locks, Centennial Bridge, and the Gatun Locks. The live feed from the cameras can be viewed at http://pancanal.com/eng/photo/camera-java.html.
The ship returned home to Charleston on October 23 after a 243-day voyage around the world. Read more about the Brown's global science mission.
For further information, contact Michael.E.Doig@noaa.gov.