Back to top
Caribbean ERMA
Caribbean ERMA is an online mapping tool facilitating coastal pollution cleanup, restoration, and response efforts for Puerto Rico, the U.S. Virgin Islands, and surrounding islands.
Emergency Response
Caribbean ERMA brings together the data necessary to plan for or respond to an emergency response in the Caribbean, including information on coral reef structures, extent of sea turtle habitat, locations of mangroves, and presence of threatened and endangered species. The dataset also incorporates geographically specific elements of the Area Contingency Plan for the Caribbean, such as response equipment locations and protection strategies.
ERMA has been used in the Caribbean to map small vessel groundings near coral reefs, support regional oil spill response training, and assist in identifying resources affected by the 2009 explosion and fire at the Caribbean Petroleum Corporation oil storage facility in Puerto Rico. ERMA also helped determine the potential habitat impacts of the 2012 grounding of the M/V Jireh on Mona Island, west of Puerto Rico.
Caribbean ERMA has even been relied upon for natural disaster response. Following the devastating 2010 earthquake in Haiti, ERMA developers collaborated with the U.S. Environmental Protection Agency, Telascience Lab, and OpenStreetMap.org to bring together important humanitarian response information and create a digital visualization of earthquake damage.
Partners
Caribbean ERMA was developed in conjunction with Region 2 of the U.S. Environmental Protection Agency and the University of New Hampshire's Coastal Response Research Center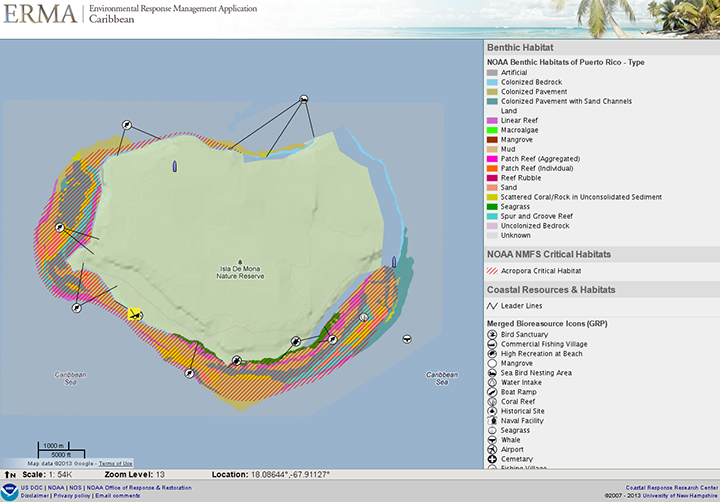 Caribbean ERMA shows environmental data used during the 2012 grounding of the M/V Jireh on coral reefs off Isla De Mona, west of Puerto Rico. Acropora coral has been listed as endangered, and the incident occurred near critical habitat for the species.