Back to top
Pacific Islands ERMA
Pacific Islands ERMA is an online mapping tool which integrates key environmental response information. It covers the Hawaiian Islands and outlying territories, including Guam, Saipan, American Samoa, and Johnston Atoll.
Emergency Response
The U.S. Coast Guard Sector Guam has been using ERMA's data and tools to develop Geographic Response Plans (GRP) for Guam and the Northern Mariana Islands. The nautical charts, Environmental Sensitivity Index maps, coral habitats, and satellite imagery available in ERMA are instrumental in planning oil spill booming strategies and designating priority areas for protection in the event of an oil spill in active port areas. The GRP planning team uses the ERMA Draw tool to map environmentally sensitive species and habitats. These data are then reviewed by other federal and state partners and verified in the field before inclusion in the region's Area Contingency Plan.
Debris Tracking
The 2011 Japanese tsunami sent debris across the Pacific Ocean, with some reaching the waters and shorelines of Canada and the United States. Pacific Islands ERMA was used extensively by the NOAA Marine Debris Program to track tsunami debris sightings, mapping the geographic scale and movement of debris.
Partners
Pacific Islands ERMA was built in cooperation with the U.S. Coast Guard. ERMA was developed in collaboration with University of New Hampshire's Coastal Response Research Center.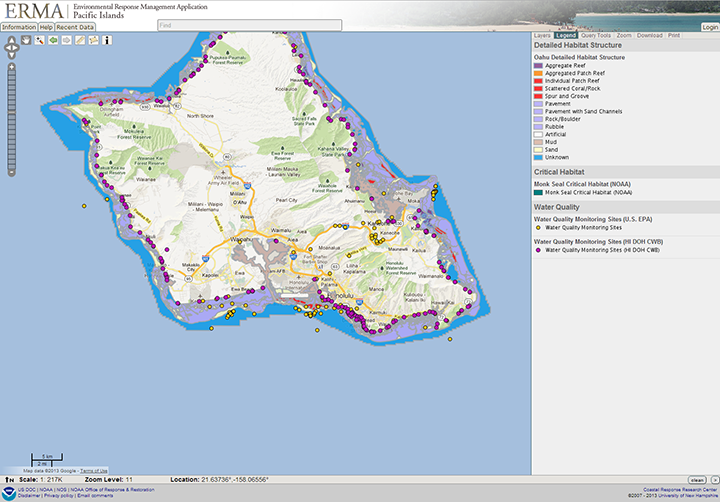 Pacific Islands ERMA displays coral reef habitats and water quality monitoring sites from the State of Hawaii and U.S.Environmental Protection Agency.