Back to top
ESI Availability
Environmental Sensitivity Index (ESI) atlases are available for most of the coastal regions of the United States, along with a few international locations. (Each ESI atlas is a regional collection of several smaller ESI maps.) ESI maps and data are available for download or can be ordered on CD/DVD.
Click on the regional links at the top or bottom of this page to see:
Areas that have ESI atlases on CD/DVD, and what formats are available for each atlas.
Metadata (information about the data) for each atlas.
List of maps included in each atlas (using ESI indexes).
Overview fact sheets for each atlas CD/DVD.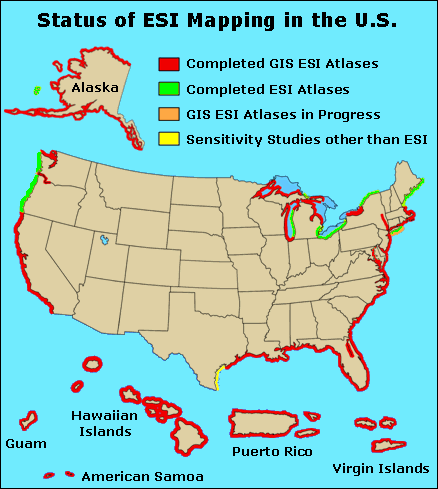 More Information about ESI Maps
Anatomy of ESI Maps: Learn about the basic elements of ESI maps, including the types of information that are mapped.
ESI Toolkit: Browse a collection of resources for ESI users.
 
Questions: Contact us with questions about ESI map availability.