Back to top
Marine Debris Celebrates Earth Day From Coast to Coast
APRIL 26, 2019 — Last week, the Marine Debris Program (MDP) celebrated Earth Day around the country.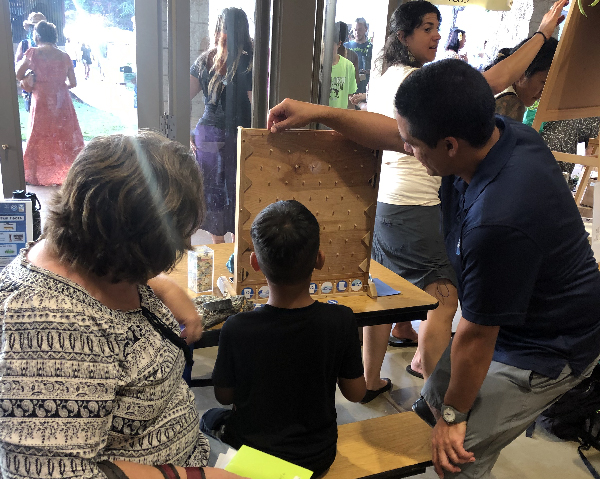 With events spanning from Hawaii to Maine, MDP regional coordinators and headquarters staff attended cleanups and outreach events that celebrated our Earth, ocean, and Great Lakes.
In Hawaii, MDP Pacific Islands Regional Coordinator, Mark Manuel, attended the 2019 Moloka'i Earth Day Celebration, alongside NOAA staff from the National Weather Service, Pacific Islands Fisheries Science Center, Office of Law Enforcement, Office for Coastal Management, Pacific Tsunami Warning Center, Papahānaumokuākea Marine National Monument, and Hawaiian Islands Humpback Whales National Marine Sanctuary. The group from NOAA participated in cleanup of the Kaunakakai Harbor, removing both land and ocean-based debris that included hundreds of cigarette butts, food packaging, fishing nets, buoys, and even an old rusty chair.
On the Washington Coast, Pacific Northwest Regional Coordinator, Nir Barnea, joined CoastSavers for their Washington Coast Cleanup at one of their 50 cleanup sites at Grenville Point. Under bright blue sky and spring sun, hundreds of volunteers picked up marine debris that has accumulated over the winter months, recycling some of it. At Grenville Point, volunteers collected mostly plastic debris, such as beverage plastic bottles and many short yellow ropes used for aquaculture, a plastic kerosene container, and even a plastic sole of a shoe.
Down in the Gulf, the Texas State Aquarium hosted a Party for the Planet, attended by the Gulf of Mexico Regional Coordinator, Caitlin Wessel. The event was a fun, kid-friendly spin on Earth Day, with experiences aimed at getting the next generation to care about the ocean and the creatures that call it home. During the celebration, visitors learned about conservation, experienced Earth Day themed animal enrichment and dive shows, and made a 'Pledges for the Planet' online.
Up in Put-in-Bay, Ohio, Great Lakes Regional Coordinator, Sarah Lowe, attended the Scheeff East Point Preserve Beach Cleanup alongside The Ohio State University Stone Laboratory, Ohio Sea Grant, Lake Erie Islands Conservancy, Miller Ferry Boat Line, and Put-in-Bay Schools. Volunteers used the Marine Debris Tracker app to capture the plastic foam, shotgun shell casings, garden hose, boat propeller, e-cigarette waste, and more from the shoreline.
In Washington, D.C., MaryLee Haughwout, Deputy Director; Emma Tonge, Communications and Outreach Specialist; and Ya'el Seid-Green, Policy Analyst for the Office of Response and Restoration, attended the World Migratory Bird Day Annual Reception and Recognition of Sponsors, alongside staff from the National Park Service, United States Forest Service, United States Department of the Interior Bureau of Land Management, United States Fish and Wildlife Service, Smithsonian Institution, and other partners. Hosted at the Earth Conservation Corps, staff from these offices participated in a cleanup and boat tour of the Anacostia River, spotting ospreys and other wildlife along the river, and removing hundreds of pieces of debris made of hard plastic and foam from the wetlands along the river.
The Wells National Estuarine Research Reserve hosted an Earth Day Celebration and Trail Dedication, attended by the Northeast Regional Coordinator, Demi Fox. The event included a beach cleanup, games, music, and guided walks in celebration of Earth Day.
The MDP is excited to have taken action for our planet with so many wonderful volunteers and partners. However, the action doesn't need to stop on Earth Day! You don't need to wait to have a positive impact on our environment. By working to refuse, reduce, reuse, and recycle every day, and through these outstanding volunteer and outreach efforts across the United States and worldwide, we can work together to take on marine debris year-round! Visit the MDP website to learn how to help.
For more information, contact Emma.Tonge@noaa.gov.
more images