Back to top
Marine Debris Program and Representative Jimmy Panetta's District Office Join Save our Shores Paddle Cleanup
JULY 13, 2018 — On June 22, the Marine Debris Program (MDP) California Regional Coordinator, Sherry Lippiatt, participated in a kayak-based marine debris cleanup of the Pajaro River in Watsonville, California.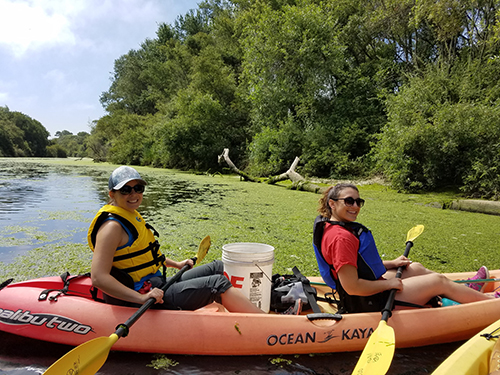 The cleanup was one of 15 supported under a MDP FY17 Community-Based Removal Grant awarded to Save Our Shores, with a goal of preventing land-based debris from reaching the Monterey Bay National Marine Sanctuary. Volunteers were joined by one of Congressman Jimmy Panetta's (CA-20) in-district staff members, Taylor Brenis. Although the river was relatively clean, volunteers found a number of polystyrene pieces, black plastic bags, agricultural tarp, and a few tires. The strangest item found was the head of a dinosaur grabber toy.
For more information, please contact Sherry.Lippiatt@noaa.gov.