Back to top
Marine Debris Program Celebrates Successful Completion of Washington Crab Pot Prevention and Removal Project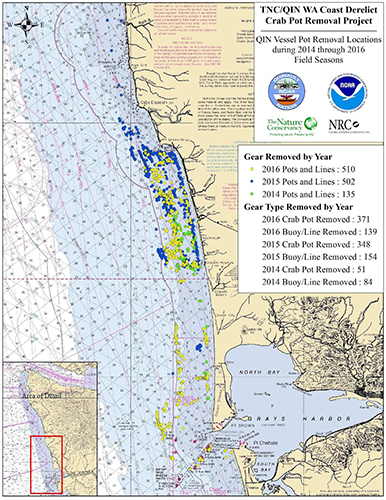 This project, a partnership of The Nature Conservancy, the Quinault Indian Nation, and Natural Resource Consultants, was funded through a NOAA Marine Debris Program removal grant.
Covering 155 square miles within and adjacent to the Quinault Indian Nation Management Area, project partners conducted aerial surveys to spot derelict crab pots - lost mostly due to winter storms - and addressed a total of 1309 derelict pots. Partners removed a total of 932 derelict crab pots and separated the rest, buried too deeply in the sand, from their float lines using an innovative tool: the line cutter. To accomplish this task, they lowered the device from the vessel down the float line, where it cut the line near the sea floor. By cutting the float line, they eliminated entanglement hazards to marine mammals, as well as hazards to vessels.
Partners investigated the removed pots and recorded data associated with the pots' locations, conditions, and animals trapped in the pots. They will use this information to improve scientific understanding of the interaction between lost pots and the animals trapped within them. They also reused or recycled most of the removed pots removed, taking advantage of the Fishing for Energy bin placed in Westport, WA.
Very importantly, the project developed a Tribal program to prevent, report, and remove derelict crab pots in the future. The Quinault Indian Nation developed regulations to best address crab pot loss and identified sources of funding to support the program. Tribal fishermen used Radio Frequency Identification tags on every crab pot deployed to automatically track pots deployed and pots recovered, flag pots lost, and provide the lost pots' approximate locations.
The project partners cast a wide outreach net. In addition to reaching Tribe members and fishermen, the partners engaged the public via social media. They also created and distributed 5,000 dining table placemats to restaurants along the coast and in Seattle to educate diners about the project while they waited for their meals.
For more information, please contact Nir.Barnea@noaa.gov.
more images