Parts of the U.S. Government are closed. However, because the information this site provides is necessary to protect life and property, it will be updated and maintained during the Federal Government shutdown. For critical weather information, please visit
www.weather.gov
. To learn more, see
www.commerce.gov
.
The Marine Debris Program Empowers Teachers at a Weeks Bay NERR Workshop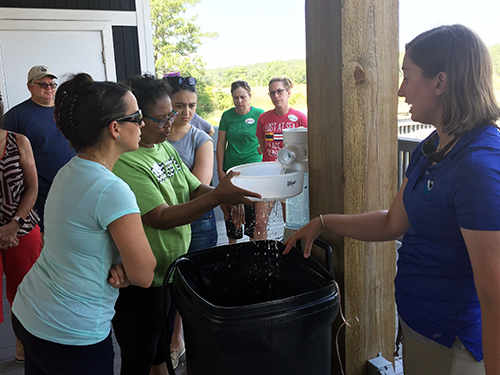 This research and field-based training program improves the teachers' understanding of the environment using local research and promotes the stewardship of watersheds and estuaries. This year the workshop was dedicated to learning about challenges to estuaries, including marine debris. Caitlin Wessel, Gulf of Mexico Regional Coordinator for the Marine Debris Program, taught approximately 20 educators about different types of marine debris that impact the Gulf Coast, and the NERR provided teachers with supplies to take various marine debris activities back to their classroom. The teachers were also taken on a demo field trip to sample for microplastics in the water and sediments of Weeks Bay and learn how to use various applications for shoreline monitoring. They were encouraged to bring their classes back for future sampling!
For more information, please contact Caitlin.Wessel@noaa.gov.