Back to top
Marine Debris Program Meets with Indonesian Representatives to Discuss Tackling the Issue at Home and Abroad
OCTOBER 13, 2017—On October 11, NOAA Marine Debris Program (MDP) Director, Nancy Wallace, and Pacific Northwest Regional Coordinator, Nir Barnea, along with members of the U.S. Department of State, met with Minister Luhut Panjaitan, Ambassador Budi Bowoleksono, Dr. Safri Burhanuddin and additional Indonesian staff at the Indonesian Embassy in Washington, D.C. to discuss marine debris.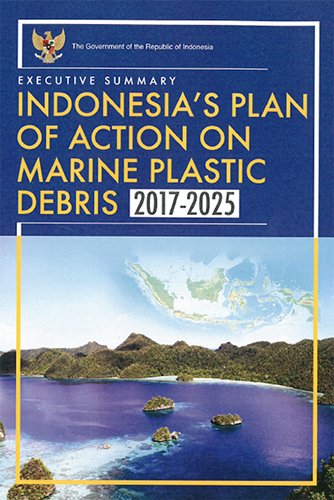 At the meeting, the MDP provided an overview of the marine debris program, and Minister Luhut provided an update on Indonesia's efforts to reduce marine debris and what Indonesia needs to address marine debris in the future. Participants discussed possible areas of information sharing, technical exchange, and other collaboration.
For additional information, please contact: Nir.Barnea@noaa.gov.
Photo: Cover of Indonesia's Plan of Action on Marine Plastic Debris for the next eight years.