Back to top
Marine Debris Program Participates in Seattle International Coastal Cleanup Event
SEPTEMBER 21, 2018 — It pays to arrive early to an International Coastal Cleanup event on September 15 - you get to pick up the best debris around.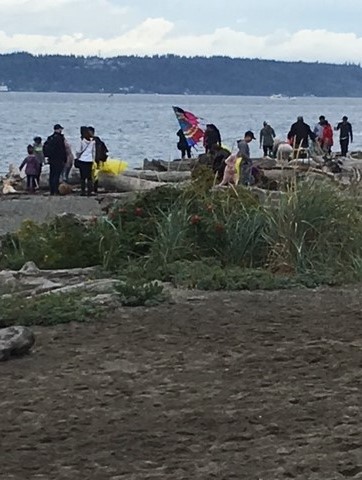 Alas, there was not much debris on the beach at the Carkeek Park cleanup event, organized by the Puget Soundkeeper. Possibly because people love this beautiful Seattle beach, and possibly because when litter does exist, a caring soul will pick it up and toss it in a garbage can.
The annual International Coastal Cleanup is in its 33rd year, and the NOAA Marine Debris Program is proud to support this event that mobilizes volunteers to remove marine debris from our waterways and coastal environments.
Nir Barnea, Pacific Northwest Regional Coordinator for the NOAA Marine Debris Program, reports on his experience cleaning up debris in Seattle: "After picking up whatever I could find on the beach, including cigarette butts, I headed out to the trails in the park, picking up the usual - candy wraps, empty chip bags, and the occasional aluminum can or bottle cap. Nothing unusual or exotic this time. When my handy reusable bag was full, I headed back to the signup station, managed by Seattle Zoo volunteers, emptied it, and checked out. I noticed that all the trash pickers were gone, used by the many volunteers that showed up. Another successful International Coastal Cleanup event!"
For more information, please contact Nir.Barnea@noaa.gov.