Back to top
Marine Debris Program Presents to Gulf of Maine Council at Annual Meeting
JUNE 15, 2018 — On June 5 and 6, the Marine Debris Program's Northeast Regional Coordinator Demi Fox presented to members of the Gulf of Maine Council on the Marine Environment and its Working Group gathered in Gloucester, Massachusetts during their annual meeting.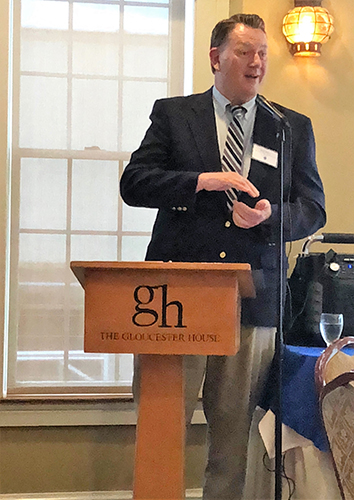 The meeting included representatives from Nova Scotia, New Brunswick, Maine, New Hampshire, and Massachusetts, and the agenda covered updates, plans for upcoming work, and new ideas for improved collaboration. The discussion included regional climate trends and new weather prediction tools, Canada's efforts to protect marine habitat in the Gulf of Maine, the status of North Atlantic right whales, unprecedented damage caused by this year's New Brunswick floods, and a study on the series of nor'easters that hit the region in March.
Many attendees voiced concerns regarding marine debris and its negative impacts in the Gulf of Maine. Together with Theresa Torrent of Maine's Coastal Program, Demi Fox provided a brief summary of current regional marine debris issues along with examples of innovative projects in progress and solutions proposed by partners working on the Gulf of Maine Marine Debris Action Plan.
Council Members voted to continue work on a Marine Debris Work Plan in the coming year. Their Plan consists of strategies to share tools to reduce single-use plastics in restaurants in each of the five Gulf of Maine jurisdictions and increase awareness of the threats ocean pollution presents.
For more information, please contact Demi.Fox@noaa.gov.