Back to top
Marine Debris Program Provides Support at the Incident Command Post in Florida
OCT. 27, 2017 — In the wake of Hurricane Irma, over 1,500 vessels were left displaced throughout the state of Florida.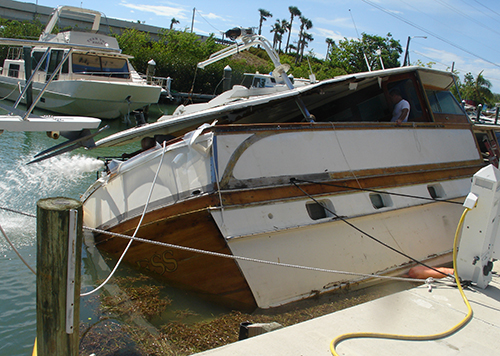 Many of these vessels ended up in sensitive habitats, like seagrass and coral beds, or tangled in mangroves.  Some vessels were also discharging oil or contained other hazardous materials. As part of Emergency Support Function 10 (ESF 10), the United States Coast Guard (USCG) was mission assigned by FEMA to mitigate potential pollution threats by removing these vessels.   
Charles Grisafi and Sarah Latshaw, Marine Debris Program Regional Coordinators for the Florida and Caribbean and Southeast regions, respectively, supported fellow NOAA colleagues, the USCG, the state of Florida, and the Environmental Protection Agency by serving in the Environmental Unit at the USCG Incident Command Post (ICP), in Miami, Florida.  From September 31 through October 17, they filled the role as the statewide Natural Resource Advisor (NRA) Coordinator in a back-to-back rotation.  
The NRA Coordinator role emerged after the state of Florida, with support from the U.S. Army Corps of Engineers, issued a statewide Emergency Order waiving the permit typically needed for vessel removal operations, and allowing for rapid response to these pollution threats.  Working closely with the USCG Incident Command Post Operations Unit, the NRA Coordinator reviewed all planned USCG vessel removal operations throughout the state to identify any potential issues or impacts that may occur as a result of these operations. If potential impacts to natural or cultural resources were anticipated, Charles and Sarah coordinated with over 20 local specialists in the field to ensure best management practices were followed and issues were being reported to the USCG command.
Vessel assessment and removal operations continue in the state of Florida, and the NRA Coordinator role is currently being led by staff from the NOAA Office of National Marine Sanctuaries.
For additional information, please contact Charles.Grisafi@noaa.gov or Sarah.Latshaw@noaa.gov.
Photo shows a vessel displaced by Hurricane Irma in Marathon, Florida. Image credit: NOAA.