Back to top
National Ocean Service Scientists Collaborate: OR&R Scientists Join Forces with National Centers for Coastal Ocean Science Researchers
JULY 27, 2018 — OR&R scientists joined forces with NCCOS researchers earlier in July to discuss ongoing collaborative research.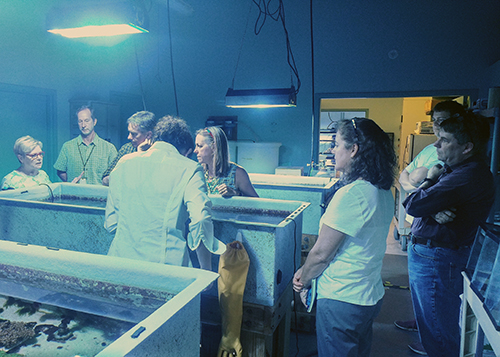 A variety of research topics were discussed, including: oil toxicity testing methods; oil toxicity to corals, fish and shrimp; photo-induced oil toxicity; and sampling equipment decontamination.   The scientists also spent time developing research ideas for future work that will enhance NOAA's abilities to respond to and assess injuries from oil spills.  This is an ongoing effort to engage in more cross-program collaboration and maximize in-house resources to support future response and assessment activities to support the OR&R mission.
For further information, contact Lisa.DiPinto@noaa.gov.