Back to top
National Response Team-Regional Response Team Meeting in Philadelphia
AUG. 3, 2018 — On June 27-28, OR&R representatives attended the National Response Team-Regional Response Team co-chairs meeting in Philadelphia.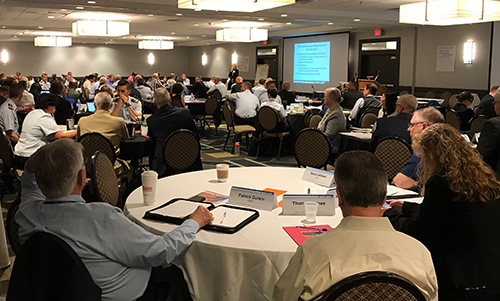 OR&R is delegated the responsibility for representing the Department of Commerce on the National and Regional Response Teams due to the environmental response mission of both these teams and OR&R. Representatives from the State of Alaska and Washington also joined the meeting. Attending were Dave Westerholm, Scott Lundgren, John Tarpley, Doug Helton, and Steve Lehmann each with roles in the NRT's mission and its team and committee and subcommittee structure and active projects.
NOAA's representatives joined national representatives from the 15 National Response Team member agencies, EPA and USCG RRT Co-Chairs from the 13 RRT regions (map of RRT regions with NOAA representatives), and other guest speakers and select agency regional representation.
A wide range of current environmental response topics were advanced during the meeting.  NOAA specifically contributed in discussions regarding Abandoned Vessel Response Operations, NOAA Satellite-based Oil Spill Detection, Shoreline Cleanup and Assessment Technique (SCAT) National Initiatives, and Environmental Response National Environmental Compliance Subcommittee updates.
For more information, contact Scott.Lundgren@noaa.gov