Back to top
New Chemical Countermeasure at Play in the Gulf of Mexico
MAY 28, 2019 —OR&R staff from the Emergency Response Division (ERD) and the Assessment and Restoration Division (ARD) participated in Chevron's 2019 Preparedness for Response Exercise Program (PREP) exercise this week held in Covington, Louisiana.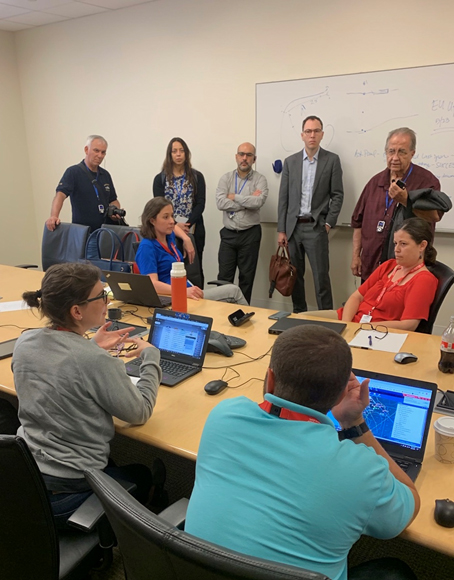 This year marks the fourth year of annual collaboration between Chevron, the U.S. Coast Guard, state and federal agencies, Natural Resource Trustees, among other stakeholders, to prepare for the protection and restoration of the environment following an oil spill. This year was especially significant as it marked the first time within the U.S. that surface collecting agents, a chemical countermeasure also known as herding agents, were brought forward during exercise play for approval by a Regional Response Team.
ERD and U.S. Coast Guard, with the assistance of industry experts, engaged state and federal partners through a series of question and answer sessions, months before the exercise. Partners within the region are now keen to identify a spill of opportunity to further the science and understanding of this new tool.
ARD coordinated closely with state trustees and Chevron Natural Resource Damage Assessment (NRDA) representatives to meet exercise objectives, including NRDA coordination with the wildlife response branch, modeling task force, planning, operations, and the environmental unit to ensure data was being successfully shared among parties and coordination on the development of environmental sampling plans.
An added bonus to this historical exercise: delegates from Argentina, at the invitation of the U.S. State Department, were present to observe the U.S. approach to oil spill contingency planning, preparedness requirements and national response system.
For more information please contact Liza.Hernandez@noaa.gov or Brandi.Todd@noaa.gov.
more images