Back to top
New Spill Plans in Effect in Alaska
SEPTEMBER 21, 2018 — Effective Friday, September 14, 2018, the single Alaska Regional Contingency Plan and four Area Contingency Plans have replaced the old Unified Plan and 10 subarea contingency plans.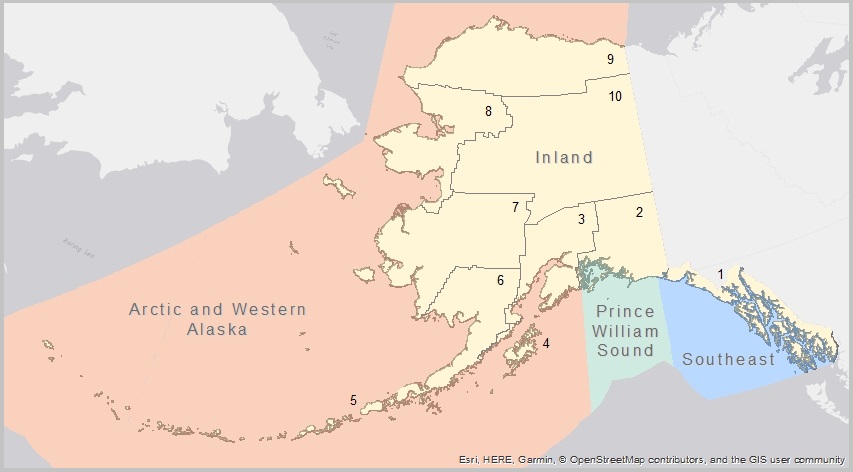 This Regional Contingency Plan provides statewide guidance for response to a discharge, or substantial threat of discharge of oil and/or a release of a hazardous substance from a vessel or on/offshore facility operating within Alaska's boundaries and surrounding waters.  
Due to Alaska's large size and diversity of habitats and spill risks, the state is divided into four planning areas: Arctic and Western Alaska, Alaska Inland, Prince William Sound, and Southeast Alaska. These four areas correspond to the three coastal U.S. Coast Guard (USCG) Federal On-Scene Coordinators (FOSC) boundaries and the inland Environmental Protection Agency (EPA) Federal On-Scene Coordinator area of responsibility. 
The USCG Captain of the Port in Southeast Alaska, Prince William Sound, and Western Alaska are the predesignated Federal On-Scene Coordinators for the coast areas and EPA (Alaska Operations Office) provides the Federal On-Scene Coordinator for all inland incidents including spills from the Trans-Alaska Pipeline and other pipeline spills in the "Inland Zone."
The new Area Contingency Plans combine several of the previous subareas and include all of the information previously housed in those subarea plans. The content in the government plans has been repackaged into the new plan structure, but there is no new or removed content as a result of this revision.
Operational and planning areas for individual operations may extend into more than one area plan. More information about this change, including a map of the new areas and the newly adopted regional and area contingency plans, is available at Oil and Hazardous Substance Response Plans.  
For more information, contact Doug.Helton@noaa.gov or Catherine.Berg@noaa.gov.

 
Go back to the OR&R Weekly Report.