Back to top
NOAA 2018 General Modeling Meeting and Fair
SEPTEMBER 14, 2018 — OR&R's Emergency Response Division Chief Scott Lundgren and Physical Oceanographer Dylan Righi attended the NOAA 2018 General Modeling Meeting and Fair in College Park, Maryland, at the NOAA Center for Weather and Climate Prediction on September 10 - 12.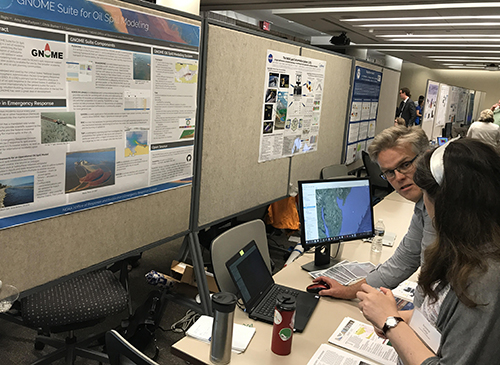 OR&R's participation was to enhance connections with National Ocean Service and NOAA modeling partners and to better understand NOAA's unified modeling strategy and its future implications for OR&R's modeling role. OR&R also presented a poster on use of the GNOME suite for oil spill modeling during the modeling fair portion of the event.
OR&R ingests the output of multiple models and observations from NOAA and beyond in our trajectory analysis mission, many of which were presented at the meeting and fair. This end-user approach is driven by the unpredictable nature of spills as opposed to the always-operating nature of many NOAA models. 
We expect to benefit from NOAA enhancements resulting from integrated and coupled models, and will monitor progress for other applications in our mission. 
For further information, contact Scott Lundgren.