Back to top
NOAA Co-hosts the Sixth International Marine Debris Conference
MARCH 23, 2018 — On March 12-16, 2018 the Marine Debris Program (MDP) and the United Nations Environment Programme co-hosted the Sixth International Marine Debris Conference (6IMDC) in San Diego, California.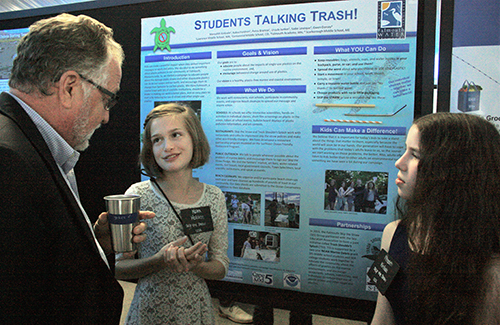 The event brought together more than 700 attendees from over 50 countries representing the marine debris community. The 6IMDC assessed how far we've come since the Fifth International Marine Debris Conference seven years ago, and looked forward on how to best minimize the impacts of marine debris. The 6IMDC also celebrated and encouraged further global innovation, collaboration, and action around this far reaching topic.
Throughout the week, conference participants were able to attend four plenary and lunch panels, as well as over 70 technical sessions featuring more than 400 oral presentations and over 180 posters. Conference participants were also asked to contribute to zero waste initiatives during the event. Through these initiatives, the 6IMDC was able to prevent the use of more than 3,000 plastic water bottles, divert nearly 4 tons of waste from a landfill, and compost nearly 3.5 tons of food waste.
For more information contact Christy.Kehoe@noaa.gov.