Back to top
NOAA Hosts Second Annual Diversity and Inclusion Summit
NOVEMBER 17, 2017 — On November 1-2, NOAA hosted its second annual Diversity and Inclusion Summit in Silver Spring, Maryland.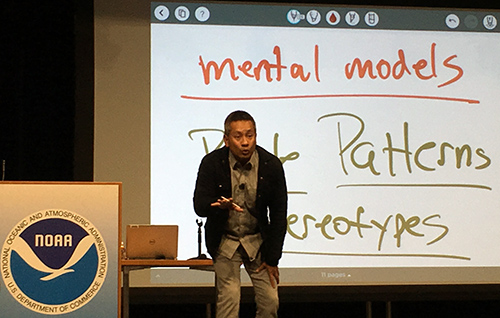 The summit was an opportunity for employees and team members to hear reflections from senior leaders, get updates on NOAA diversity and inclusion (D&I) initiatives, and gain tips and best practices for self-reflection and inclusivity. The event was held in-person at the NOAA Science Center and Auditorium, with remote call-in options for those that could not be present. Over 80 employees and team members from NOS were in attendance. 
The event began Wednesday morning with opening remarks from NOAA's newly-appointed Assistant Secretary of Commerce for Oceans and Atmosphere and Acting Under Secretary of Commerce for Oceans and Atmosphere, RDML Tim Gallaudet. RDML Gallaudet shared why the mission of diversity and inclusion is important to him, noting several family anecdotes that exemplified the importance of these traits in the workplace. NOAA's Office of Civil Rights Director Kenneth M. Bailey then gave a status update on NOAA's D&I initiatives, then introduced panelists from the Executive Diversity Advisory Council, which included Nicole LeBoeuf, the NOS Deputy Assistant Administrator. Nicole reminded audience members of the importance of lifting others up, which several members publicly thanked her for during the subsequent Q&A with the panel. 
The rest of the day was filled with talks and workshops from leaders in both government and private industry. Mr. Dexter Brooks, Associate Director of the Office of Federal Operations, Federal Sector Programs, United States Equal Employment Opportunity Commission, gave a brief keynote speech, followed by Mr. Paul Meshanko from Legacy Business Cultures, who spoke about "Uncovering, Understanding, and Managing Bias." That afternoon, Steve L. Robbins from S.L. Robbins and Associates delivered a powerful talk about the biological and social importance of feeling included in a community, and how we can better foster that sense of inclusion. The talk had deep emotional weight, pulling anecdotes from a troubled childhood as a Vietnamese immigrant in Los Angeles. The day concluded with a presentation from David E. Williams, the Deputy Assistant Secretary for Diversity and Inclusion with the Department of Veteran Affairs (VA), about how the department is able to measure internal diversity and has shown for the first time in government that higher diversity ratings result in stronger business outcomes. 
The second day began with opening remarks from Trisha Agramante, Director of Civil Rights at the Department of Commerce, about the importance of socioeconomic diversity and how even a person's accent can be enough to trigger unwarranted biases based in socioeconomic status. She challenged the audience to check their biases whenever they look at universities on a resume or hear an accent from another area of the country. Janet Crenshaw Smith from Ivy Planning Group, LLC, then delivered an animated discussion of micro-triggers, prompting attendees to reflect on what their micro-triggers were and how they can respond when they see them in the workplace. Paul Meshanko concluded his two-part lecture from the previous day, followed by a lecture by Scott E. Page, a professor at the University of Michigan, about "The Diversity Bonus: How Great Teams Pay Off in the Knowledge Economy." He presented a mathematical formula that calculates how input from diverse sources results in less error, with examples from a worldwide competition issued by the corporation Netflix in 2009. Mr. Kenneth M. Bailey wrapped up the summit with a review of the D&I Action Plan, closing remarks, and questions from the audience. 
The event was an excellent opportunity for staff to be exposed to D&I experts from across government and business and hear stories of how diversity and inclusion--or the lack thereof--can have real, lasting impacts on our employees, teammates, mission, and bottom line. Speakers empowered attendees with best practices and tips they can carry into their day-to-day work, including:
Be mindful and recognize when you make decisions without much conscious thought, or when you make decisions that are overly impacted by emotion. 
Be curious and ask yourself why you feel attraction or aversion towards different people, decisions, or situations. 
Actively seek out people who view problems and challenges differently. Avoid the siren call of "sameness" within your teams. If you need to go outside your team to find diverse perspectives (to other teams, previous colleagues, academia, etc.), it's worth doing so in order to bring those perspectives to your team. 
When you look at your calendar at the start of the week, identify opportunities to invite new perspectives to each meeting. 
When attending meetings, bring someone who isn't usually invited to the meeting so that they can gain new skills, insights, and perhaps become more involved at future meetings. 
Be open to seeing new, less-experienced, or non-traditional presenters at meetings and in leadership positions. 
Be prepared and willing to change course if new information suggests that a different path will lead to better results. 
Find opportunities to lift others up. If someone on your team does good work or has potential, find ways to be a champion for them.
For questions, contact Kristen.Faiferlick@noaa.gov.