Back to top
NOAA Marine Debris Program Participates at the Third Mid-Atlantic Marine Debris Summit
JULY 1, 2019 — On June 17 - 19, partners representing diverse stakeholders from Virginia, Delaware, New York, New Jersey, Maryland, Pennsylvania and Washington, DC gathered at the 2019 Mid-Atlantic Marine Debris Summit in Arlington, Virginia.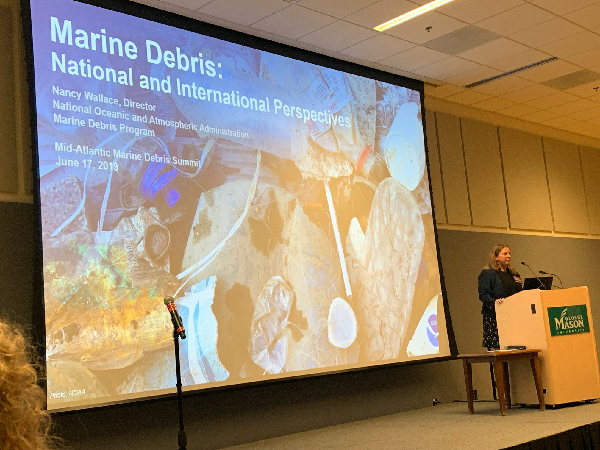 The Summit, led by the Virginia Coastal Zone Management Program, hosted over 120 marine debris stakeholders from federal, state, municipal, and local agencies, as well as non-governmental organizations, academia, and industry. 
Summit attendees received updates on emerging topics such as current trends in marine debris science and explored techniques and tools used to enhance knowledge, change behavior, and influence policies.  Representatives from the Mid-Atlantic Regional Council on the Ocean (MARCO) shared exciting developments from the Joyful Send-off campaign, which is working to "deflate" traditional celebratory balloon releases. 
The NOAA Marine Debris Program (MDP) staff presented a range of diverse regional marine debris topics and facilitated discussions on solutions to marine debris issues specific to the Mid-Atlantic region. MDP Director, Nancy Wallace, presented national and international perspectives and NOAA's role as the designated federal lead in addressing marine debris. 
Jessica Conway, MDP's Planning and Preparedness Specialist, presented on State Emergency Response Guides to Incident Waterway Debris and highlighted recently published emergency response guides for Virginia and Maryland, as well as plans for continuing efforts in the region. 
Jason Rolfe, MDP's Response Coordinator, participated on a panel focused on funding opportunities. This conversation was followed by Mid-Atlantic Regional Coordinator, Christy Kehoe, who facilitated a Summit-wide discussion on developing a Mid-Atlantic Marine Debris Action plan, the first plan of its kind in the region. The Plan will serve to facilitate and track marine debris activities across the Mid-Atlantic as well as provide a focused direction for tackling marine debris on local, state, and regional scales. The NOAA MDP will be leading the action planning efforts over the coming year. 
For more information, please contact Christy.Kehoe@noaa.gov.