Back to top
NOAA Participates in the MEXUSGULF Seminar
MARCH 16, 2018 — A common statement in the oil spill response community is, "The best thing you can bring to a response is someone you already know."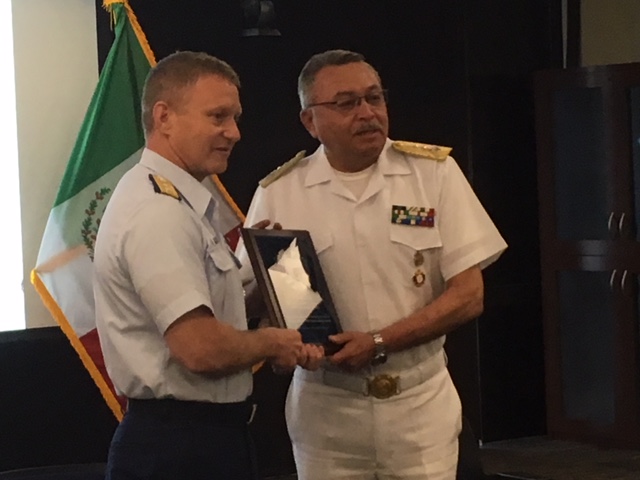 The idea is even more important in a situation where oil crosses jurisdictional boundaries, especially international ones. On March 14, two of OR&R's Scientific Support Coordinators (SSCs), Dr. Paige Doelling and Brandi Todd, participated in the MEXUSGULF Seminar, held in New Orleans, Louisiana. The seminar, hosted by U.S. Coast Guard District 8, included a delegation consisting of three Mexican agencies which participate in regulation of and response to oil and gas activities in the Gulf of Mexico (Secretaria de Marina, Agencia de Seguridad, Energia, y Ambiente, Comisión Nacional de Hidrocarburos), the U.S. Bureau of Safety and Environmental Enforcement, representatives from the states of Louisiana and Texas, and a diverse group of oil and gas industry representatives.
Both the United States and Mexico have significant oil and gas drilling, exploration, and production activities in the Gulf of Mexico. An oil discharge in the Gulf could potentially affect the water and biological resources of the neighboring country. The MEXUS Plan and MEXUSGULF Annex detail agreements and procedures for responding to such an incident.  NOAA staff, led by the SSCs, provides scientific support to the planning of exercises to test and evaluate agreements and procedures in the MEXUS Plan and MEXUSGULF Annex and would provide such support during an actual incident. Scientific issues typically addressed in an exercise or response include trajectories (where it could go), evaluation of resources at risk (what it could affect) and input to response options (what could be done to help).
For further information, contact Paige.Doelling@noaa.gov.