Back to top
NOAA's 5th Regional Preparedness Training Workshop Held in Norfolk, Virginia
JULY 1, 2019 — During June 18-20, 2019,  the University of New Hampshire's Coastal Response Research Center (CRCC) partnered with the Office of Response and Restoration's Disaster Preparedness Program to hold NOAA's 5th Regional Preparedness Workshop and Training (NRPT).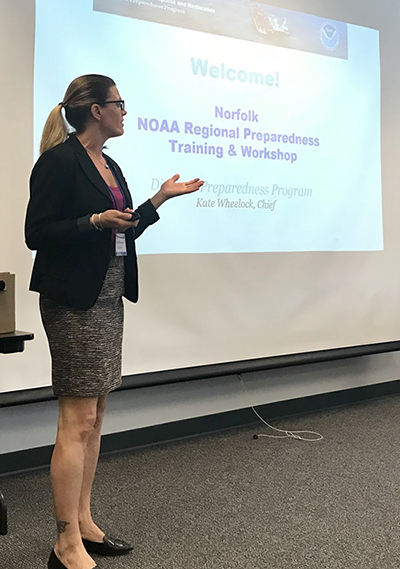 The workshop focused on improving preparedness for storm events and nuisance flooding in the Norfolk Region. The workshop kicked off with a tools cafe, a hands-on training of both NOAA and partner tools used for improving response decisions and communication, as well as opening comments from National Ocean Service Acting Assistant Administrator Nicole LeBoeuf. During the three-day workshop over 35 participants discussed the primary challenges caused by storm events and nuisance flooding and then identified best practices.
The workshop was held at Old Dominion University in Portsmouth Virginia and was well attended with regional representatives from the Port of Virginia, local emergency management agency, city personnel, NOAA (National Ocean Service, National Weather Servic, Aquisition and Grants Office), The U.S. Coast Guard, U.S. Army Corps of Engineers, and the U.S. Navy.
Fore more information contact Kate.Wheelock@noaa.gov.