Back to top
NOAA Scientists Partnering to Study Oil in Water Using Unmanned Systems
JUNE 10, 2019 — The week of June 3, OR&R scientists George Graettinger and Lisa DiPinto leveraged collaborative relationships with the Arctic Domain Awareness Center (ADAC) , the Bureau of Safety and Environmental Enforcement (BSEE), the U.S. Coast Guard, and associated project scientists from the Woods Hole Oceanographic Institution, Monterey Bay Aquarium Research Institute, Water Mapping LLC, Environmental Protection Agency) to test novel AUV (autonomous underwater vehicles) and UAS (unmanned air systems) platforms and sensors to characterize surface oil slicks and oil in the water column around the Santa Barbara oil seep field.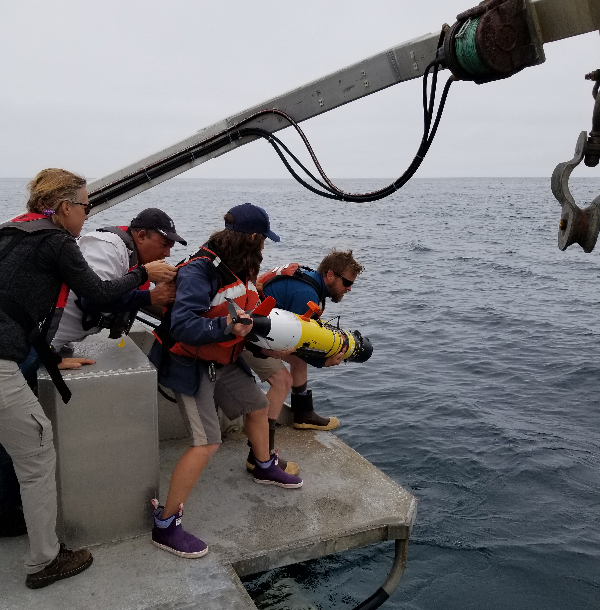 The multidisciplinary team is working collaboratively and leveraging resources from multiple projects to test several underwater vehicles (the Tethys LRAUV, REMUS 100) configured with various sensors developed to detect and characterize oil in the water column, and to advance our ability to use UAS-based multi-sensor packages specifically calibrated for oil detection. Surface oil maps were developed and produced within minutes, using semi-automated image processing developed during and following the Deepwater Horizon oil spill, and were posted to NOAA's Environmental Response Management Application (ERMA), which is the Common Operational Picture (COP) for oil spill response information during an actual incident. This demonstration of sensor capabilities as well as rapid information processing further highlights the value of these new technologies for future oil spill responses and damage assessments. 
For more information contact Lisa.DiPinto@noaa.gov.
more images