Back to top
NOAA Takes on Trash at the International Coastal Cleanup
OCTOBER 19, 2018 — On October 13, the Marine Debris Program's (MDP) Director, Nancy Wallace, OR&R Director Dave Westerholm, NOS Acting Assistant Administrator Nicole LeBoeuf, and Acting NOAA Administrator RDML Tim Gallaudet, participated in the Ocean Conservancy's International Coastal Cleanup flagship event.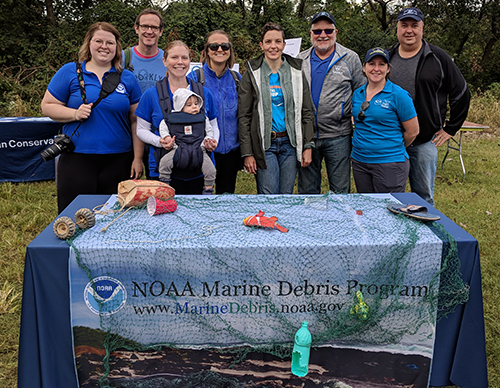 Held on Kingman Island, the event brought together hundreds of volunteers to clear the island and Anacostia River of plastic bottles, plastic foam food containers, cans, tires, large metal scraps, tarps, and more. RDML Gallaudet provided opening remarks to the gathered crowd, in which he described NOAA's role to combat marine debris, shared his personal connections to the ocean, and emphasized that marine debris is man-made problem with real-world solutions that can involve everyone.
Following the cleanup, participants entered a contest for the most interesting piece of trash, participated in a costume contest, and filled a turtle sculpture with debris found during the cleanup.
For additional information, please contact Emma.Tonge@noaa.gov.