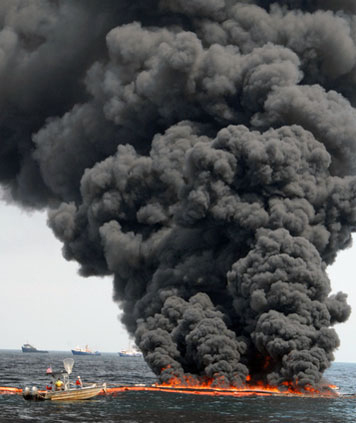 Oil and Chemical Spills
Every year NOAA responds to over 100 oil and chemical spills in U.S. waters. Spills into our coastal waters, whether accidental or intentional, can threaten life, property, and public natural resources as well as substantially disrupt marine transportation with potential widespread economic impacts. The Office of Response and Restoration (OR&R) is charged with responding to oil spills, chemical accidents, and other emergencies in coastal areas. Under the National Contingency Plan, NOAA is responsible for providing scientific support to the federal on-scene coordinator for oil and hazardous material spills. 
Addressing the Issue
OR&R's expertise spans oceanography, biology, chemistry, and geology, allowing the response team to estimate oil and chemical trajectories, analyze chemical hazards, and assess risks to coastal animals, habitats, and important areas to humans. This team, led by regional scientific support coordinators, provides scientific support to the U.S. Coast Guard for spills in coastal waters. When OR&R scientists respond to a spill, they work to answer specific questions:
What got spilled?
Where will it go and what will it hit?
What damage will it cause and how can the effects of the spill be reduced?