The DRC Welcomes Caitlin Wessel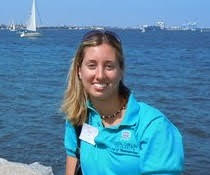 Caitlin Wessel is the newest member of the Marine Debris Program.
Caitlin has a broad background in both education and research. Born and raised in Mars, Pennsylvania, which is just north of Pittsburgh, Caitlin received a Bachelor of Science in Education from the University of Pittsburgh and a Master of Science from Coastal Carolina University in Coastal, Marine, and Wetland Studies, where she focused on restoration work.
Currently, Caitlin lives and works in the Gulf of Mexico and is finishing up her PhD in Marine Sciences from the University of South Alabama and the Dauphin Island Sea Lab researching the abundance, distribution, and impacts of marine debris in the northern Gulf of Mexico.
She stumbled onto the topic of marine debris quite by accident while taking seagrass cores just off of a remote, uninhabited island in Louisiana and was immediately hooked. In her new role at the Disaster Response Center in Mobile, AL she will take over as the Gulf of Mexico Regional Coordinator for NOAA's Marine Debris Program. In this role she will investigate and work to prevent the adverse impacts of marine debris along the Gulf coast with the goal of one day enjoying a marine environment free of debris.
During her downtime, Caitlin enjoys getting outside to scuba dive, kayak, or hike with her puppies.