Back to top
Interagency Coordinating Committee on Oil Pollution Research (ICCOPR) Meeting
OCTOBER 13, 2017—OR&R participated in the 4th quarter FY2017 Interagency Coordinating Committee on Oil Pollution Research (ICCOPR) meeting held on October 4, 2017.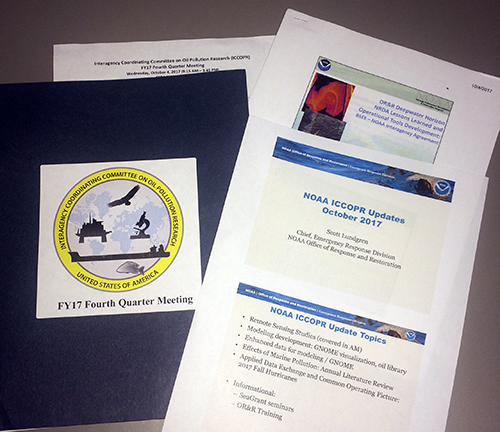 Scott Lundgren, the OR&R Emergency Response Division Chief participated in person and assumed from EPA the rotating vice chair role for the FY2018-2019 biennium at the end of the meeting.  OR&R Director Dave Westerholm and George Graettinger of the Spatial Data Branch participated remotely.  
ICCOPR consists of 15 member agencies and was established by the Oil Pollution Act of 1990 to coordinate federal research efforts on oil pollution research topics. The group's 2015-2021 Research and Technology Plan helps to guide the oil pollution research efforts of the member agencies and inform others working in the oil pollution research field of federal interests and priorities.
OR&R had arranged for a featured presentation by George Graettinger on remote sensing studies underway under funding by the Bureau of Safety and Environmental Enforcement. 
NOAA updates also spoke to development work underway on visualization and online oil library for our oil spill modeling suite (the General NOAA Operational Modeling Environment, or GNOME Suite, the annual literature review that emergency response staff edit and contribute to on the effects of marine pollution, and work during the 2017 hurricanes on common operating picture, data sharing, automated marine debris and vessel classification from remotely sensed data, coming OR&R training opportunities, and information on three coming Gulf of Mexico Sea Grant oil spill outreach team seminars.
For further information, contact Scott.Lundgren@noaa.gov.