Parts of the U.S. Government are closed. However, because the information this site provides is necessary to protect life and property, it will be updated and maintained during the Federal Government shutdown. For critical weather information, please visit
www.weather.gov
. To learn more, see
www.commerce.gov
.
Science of Coastal Natural Disasters Pilot Held at the DRC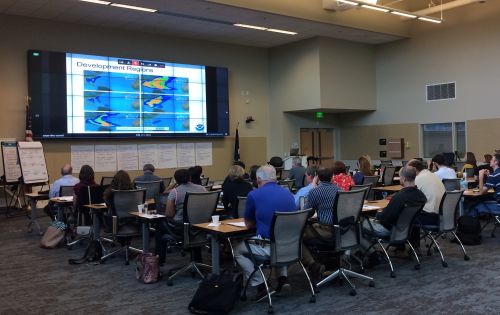 On October 25-27, 2016, the NOAA Gulf of Mexico Disaster Response Center (DRC) held the pilot offering of the Science of Coastal Natural Disasters course.
This course provides training on region-specific risks, physical processes, and NOAA products and services related to coastal natural disasters in order to improve decision making and planning. The Science of Coastal Natural Disasters is the third course in the "Science of" suite which also includes Science of Oil Spills and Science of Chemical Releases. This pilot course included 36 participants from various areas of NOAA as well as the Mobile County Emergency Management Agency, United States Army Corps of Engineers, United States Coast Guard, ADECA Office of Water Resources, Resilience Action Partners, Genwest, and the Mississippi Department of Marine Resources. Members of the Design Team will meet to discuss the course evaluations and make any adjustments needed. The DRC plans to offer this course again throughout FY17.